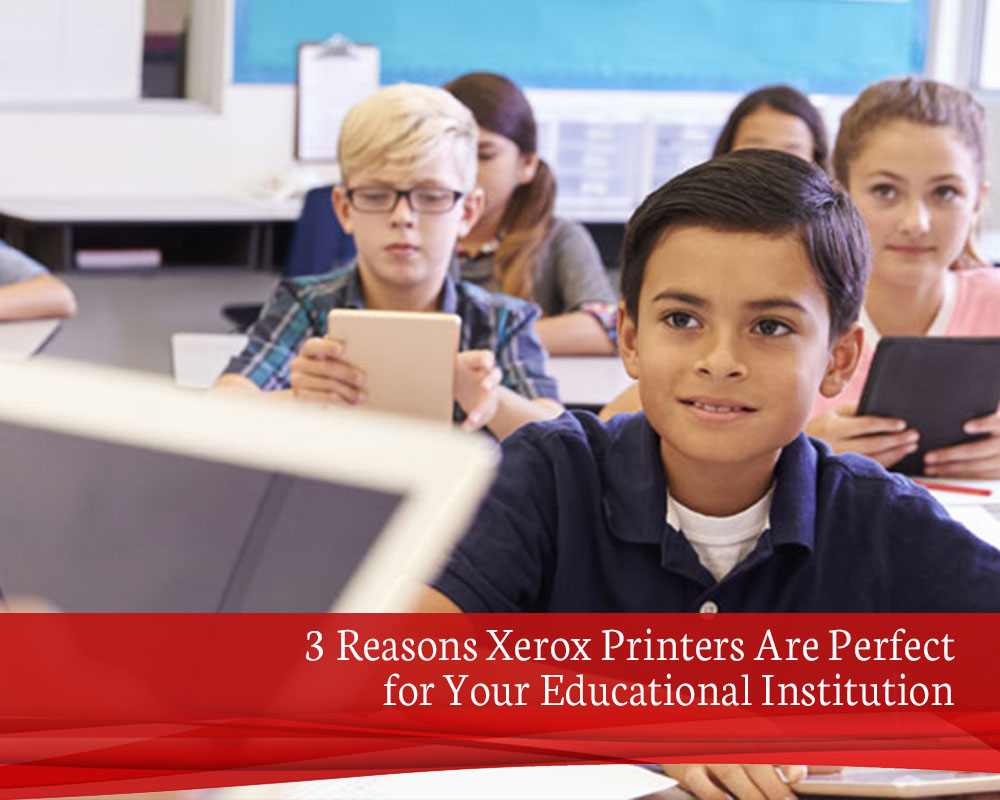 Xerox has been a leading provider of printing and document services in the education industry for over 40 years. Whether it is supporting mobile printing capabilities, reliable equipment, or streamlining administrative workflows, Xerox knows the best tools for the job. That's why XMC recommends Xerox printers as part of its world-class print and document solutions for schools and universities.
Bringing a solid print management infrastructure onto campus is no easy task. Here's why Xerox is not just a smart choice, but the perfect choice for your educational institution.
1. Xerox Is Easy for Students and Teachers
Few organizations have demographics as diverse as schools. This diversity creates a challenge when introducing technology: devices need to be complex enough to handle administrative demands, but simple enough to be understood and used by all.
As the company which brought the first photocopier into the modern office, Xerox knows that ease of use translates directly to productivity. As such, its machines come loaded with features which simplify and streamline printing and copying so that schools can have the same print efficiency as any other modern, professional office. With any Xerox machine, students and teachers can take advantage of:
· Large and legible modern touch screens
· Simplified and clear navigation settings that even the least tech-savvy person can follow
· Comprehensive and scalable functions according to project needs
· One-touch cloud and mobile connectivity using ConnectKey
· Automatic setting detection to reduce time spent on adjustments
When printing is easy, students don't get stressed, and educators can deliver high quality printed materials which drive engagement and learning.
2. Full Compatibility with Chromebooks and Google Office Means Seamless Integration in Any Environment
Xerox has homed in on many of the unique features of campus infrastructure and student technology needs. More than 25 million students and teachers around the world use Chromebooks. From tablets to laptops, Chrome OS is rapidly becoming the dominant interface throughout the entire education system.
In response, Xerox developed a specific application to help Chromebooks interface more seamlessly with Xerox printers. Students and staff can send print jobs directly from their Chromebooks, bypassing the need for lines at the printer or jumping documents to flash drives first.
Likewise, Chromebook compatibility means that Xerox can work more closely with Google's line of products. Google Cloud Print allows users to print from any web-connected device logged into a Google account. Cloud printing is a critical ability in environments such as school campuses where students and staff frequently move from building to building.
However, Xerox didn't stop there. These innovations work with many office printers, granting flawless coverage to your existing infrastructure as well. These features translate to faster printing, fewer headaches, and more time spent on more important educational priorities.
3. Xerox Understands the Unique Security Needs for Schools
Xerox understand that schools represent one area where technology security remains consistently overlooked. However, the presence of hard drives and other advanced features mean that most modern printers, copiers, and fax machines constitute a security risk.
The average school printer handles far more than just term papers. Sensitive information such as student records, faculty records, and even unpublished research are becoming a goldmine for hackers. This hazard introduces an entirely new requirement of risk management which a stretched-out IT department may not have time to deal with regularly.
It is extremely difficult for most schools to control physical or digital traffic across a campus. Therefore, protecting physical access to these devices is critical. Xerox has developed RFID card readers for their multifunction printers which support a large number of different card brands.
RFID card readers give educational institutions several advantages:
· Offices and departments can track printing usage, eliminating unauthorized or wasteful use
· Network administrators can block or limit access to USB connection to keep all print jobs visible
· The additional security measure ensures compliance with regulatory standards
· RFID-integrated student IDs prevent unknown members of the public from accessing print capabilities
School security is about more than security just the physical campus. Improve school security by installing an RFID card reader onto a Xerox printer to help keep your students' and faculty data safe.
Introduce Your School to Xerox Printers
Schools rely on printing and document management both to support students in their studies and to maintain administrative processes. From the admissions process to printing diplomas, a solid printing infrastructure constitutes a critical part of an institution's workflow.
Xerox has a comprehensive understanding of the unique needs and challenges which exist for printing in a school environment. By making their printers easy to use, efficient, compatible with many devices, and secure, Xerox is a smart choice for institutions looking to upgrade their on-campus printing solutions.
XMC has the knowledge and expertise to deploy integrated print and document solutions for campuses large and small. To explore cost-effective options for your school's printing infrastructure, get connected with one of our technology experts today.