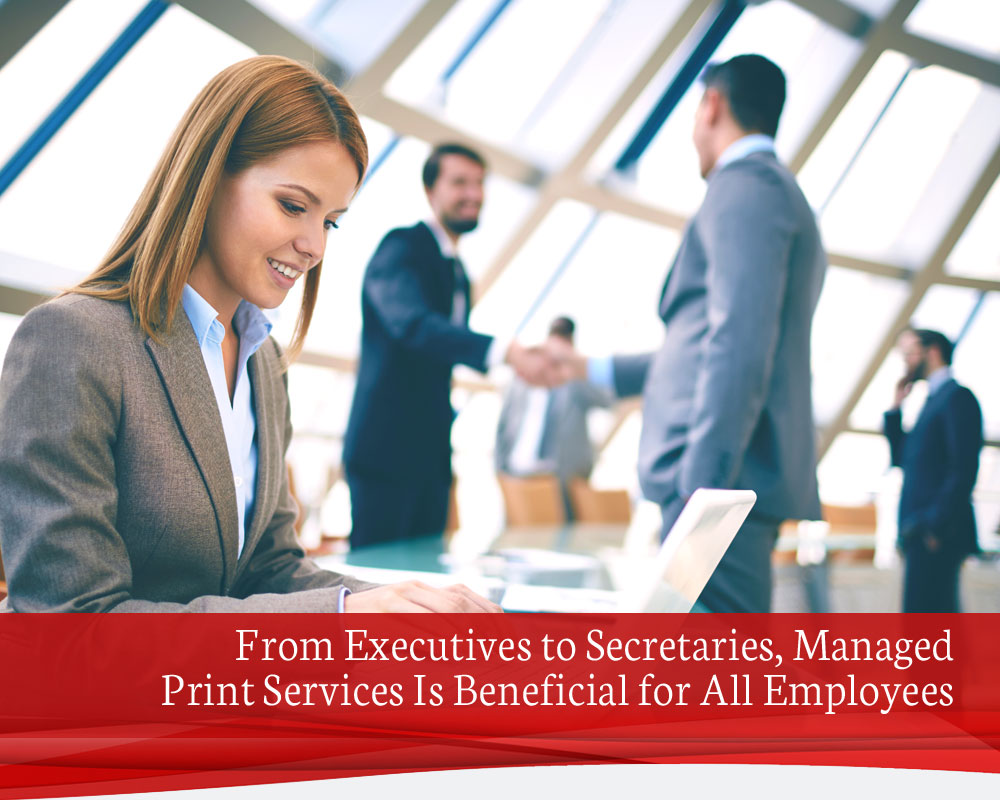 A printing environment can get complicated quickly. Employing managed print services benefits all employees in an office in that they have much less to worry about – they can place their fears and confusion into the hands of trusted experts.
When an office is in over their heads with printing confusion and does not know how to secure their printers to protect their documents, it is time for managed print services to step in. Managed print services can create an oasis out of a mess, ensuring that all printing runs without a hitch, prioritizing printer safety, and thwarting any cyberattack attempts in the process.
What Does Managed Print Services Mean?
Managed print services (MPS) encompasses all things related to an office's printing fleet. Many people may think that MPS means only the physical printing aspect of a business, such as paper and ink, but it is more than just that. Managed print services also consist of the devices used to print, including multifunction printers, copiers, and scanners, as well as the people who ensure that the technology runs smoothly, like the IT team.
In a sense, managed print services take most of the stress off employees. One of the managed print services benefits is that employees do not need to worry about anything regarding the printer fleet – that means anything as small as reordering ink or toner and checking printer security off the list. Taking this stress off the employees leaves them more time to focus on their work, thereby making them more productive.
Managed Print Services Benefits: A Condensed List
Of course, managed print services provide more benefits than just those listed below – peace of mind, less stress, more optimized office space. The list goes on. Managed print services, experts in the field of all things printing, can serve a company in more ways than one.
1. Greater Printer Security
Printers are the soft underbelly of the cybersecurity world. They might be overlooked when it comes to security, but they are often targets of cyberattacks. In fact, 56% of companies ignore printer security and do not see unsecured printers as posing a large enough risk. So much data can be compromised through an unprotected printer. Hackers can even intercept print jobs and reroute them to their own devices, and suddenly, the information is all theirs.
Around 66% of people would refuse to do business with a company that has experienced a data breach and leaked sensitive information. Managed print services can ensure that nothing gets by undetected – they will know who tries to access a printer and how to put a stop to it before a data breach happens, saving a business both time and money.
2. Knowledge of Printing History
Managed print services give administrators the ability to know who is using what printer and when to print which documents. Having this information is immensely useful when it comes to protecting sensitive data – otherwise, how will an administrator know that someone from outside their trusted circle has attempted to steal information? MPS creates a safer environment for printing overall and can identify any threats before they become full-on attacks.
3. Understanding Total Cost
About 1-3% of a business's revenue is lost to printing – an expense that cannot be overlooked. With so much going on in a single office, it may be challenging to keep those loose ends straight. Managed print services serve to streamline everything that comes with the printing environment – that is, updating old devices, ordering new supplies such as paper and ink, and troubleshooting any issues that may arise. Having a dedicated team that stays up-to-date on any issues with devices and stock will enable administrators to know exactly where their company's budget is going.
With a more cost-effective fleet comes a more environmentally-friendly fleet, too. Many MPS digitize important files, cutting down on the physical clutter that plagues office space. Keeping these files digitized not only cuts down on a business's carbon footprint, but it also makes them more secure. Paper gets lost all too often, and with the option of digitizing all records comes the ability to protect and encrypt them.
Managed print services bring with it so many benefits that cannot fit into a condensed list. In addition to those benefits mentioned above, MPS can also shrink a business's carbon footprint by ensuring that devices are energy-efficient and by keeping paper waste down to a minimum. Having trusted experts by a business's side every step of the way leaves little room for issues to rear their ugly heads.
Enjoy More Productivity by Choosing Managed Print Services
Managed print services strive to keep businesses afloat and thriving in the area they might need some help. Printing can be complicated, but that does not mean an administrator must deal with every setback and confusing occurrence. MPS helps businesses keep their cool when it comes to printing, as well as enables companies to save money and run more efficiently – maximizing their results on a minimum possible cost. XMC's managed print services can increase your office's productivity by taking the stress off employees and allowing them to use their precious time for something more productive than wrestling with a printer.
Contact us today for a consultation on how our managed print services can help your business run more smoothly.