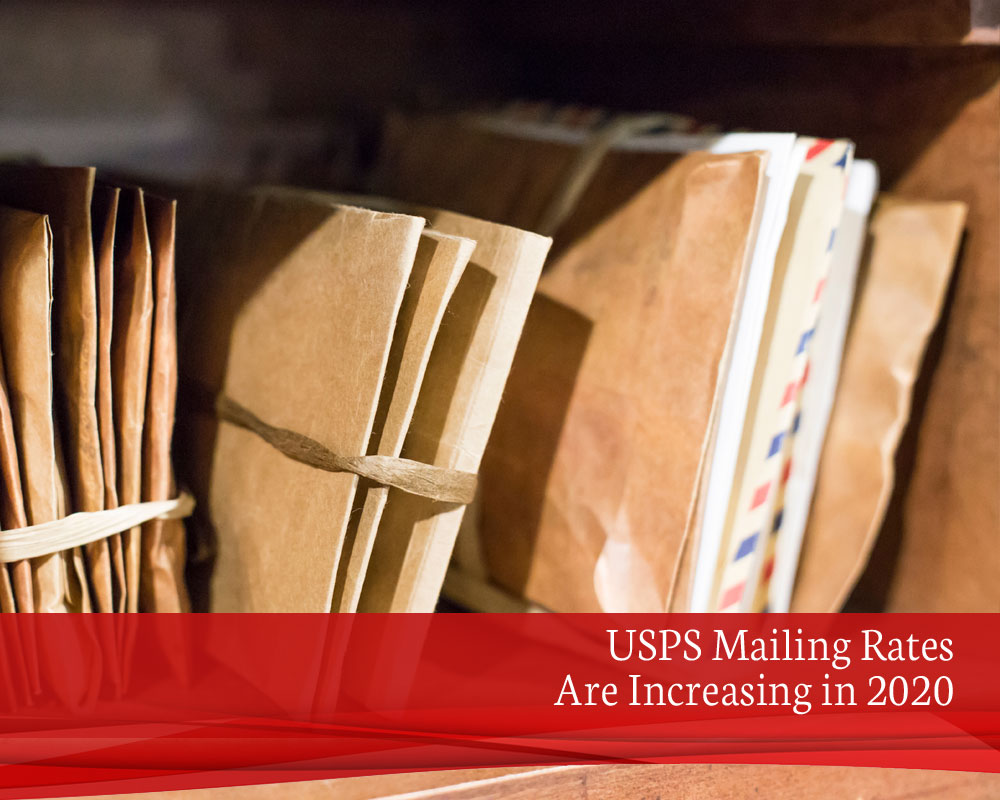 United States Postal Service (USPS) is once again increasing its mailing rates, which will come into effect on January 26, 2020. Many businesses saw this coming considering the postal service has been recording losses for years.
The new USPS rates are introduced to stem operating losses experienced by the service, which have amounted to $8.8 billion in the fiscal year 2019. This is more than twice the sum of the prior fiscal year's loss – and extending the USPS's record of negative results to 13 consecutive years.
What Are the Rate Changes?
USPS shipping rates are based on market conditions and are tied to the Consumer Price Index. The impact of the new rates will vary depending on the services and packaging utilized, with the overall increase amounting to 1.9% for the postal service.
That percentage can be misleading, however, since rates for Priority Mail will rise by 4.1%, with Priority Mail Express rates moving up by 3.5%. Below are some of the changes to the rate structure of USPS:
● First-Class Mail letters (1 ounce): 55 cents (no change)
● First-Class Mail letters (additional ounces): 15 cents (no change)
● First-Class Mail letters (metered 1 ounce): 50 cents (no change)
● First-Class Mail outbound international letters (1 ounce): $1.15 (current), $1.20 (new)
● First-Class Mail domestic postcard stamps: 35 cents (no change)
● Priority Mail small flat-rate box: $7.90 (current), $8.30 (new)
● Priority Mail medium flat-rate box: $14.35 (current), $15.05 (new)
● Priority Mail large flat-rate box: $19.95 (current), $21.10 (new)
● Priority Mail Army/Air Post Office and Fleet Post Office large flat-rate box: $18.45 (current), $19.60 (new)
● Priority Mail regular flat-rate envelope: $7.35 (current), $7.75 (new)
● Priority Mail legal flat-rate envelope: $7.65 (current), $8.05 (new)
● Priority Mail padded flat-rate envelope: $8 (current), $8.40 (new)
Why Does the USPS Need to Raise Mailing Rates?
There are several factors behind the need for increasing mailing rates:
● Reduced demand for mail services – decreasing by a significant 3.8 billion pieces. This is due to both competition from other mailing services and businesses' initiatives to replace paper documents with electronic versions stored and distributed on servers and in the cloud.
● Interest payment adjustments for workers' compensation.
● $7.3 billion to pre-fund health benefits for future retirees and payments into the retiree pension fund.
USPS has relied on shipping services from businesses to make up losses from mailing revenue. However, even those gains have slowed over recent quarters as opposed to the prior fiscal year.
What is the USPS Doing to Improve Results?
USPS has launched multiple initiatives to control and reduce the agency's losses:
● Working with Congress for regulatory reforms and legislation that allow the service more flexibility in upgrading their business model to keep pace with changing demands for services and control costs.
● Cut work hours by 4.3 million by reducing overtime and attrition.
● Focus on improved performance and new or enhanced services.
Still, growing labor costs and other rising expenses have challenged USPS management to seek annual rate increases to reduce losses.
Ways to Save Money on USPS Shipments
While the cost of shipping is a leading expenditure for businesses, there are various ways businesses can reduce the brunt. Companies impacted by the new USPS rate can take the following actions to minimize their shipping expenses in 2020:
● Utilize the most effective packaging for shipments: Heavier materials and boxes larger than necessary contribute to higher shipping expenses. With rising rates, this becomes even more important.
● First Class Mail: Use First Class Mail service where possible, to benefit from those unchanged rates.
● Exploit new innovations: Make use of technology such as sophisticated postage meters and leverage any available discounts.
Additionally, some observers predict that rising USPS rates can increase the demand for Express and Priority Mail services.
Streamline Your Workflow with Mailing Solutions
Our Mailing Solutions at XMC provide a mix of equipment and technology that can make your mail processing and save you money. The MailOne software, for instance, lets you take charge of your mailroom with detailed reports of mailing and shipping transactions, including a comprehensive accounting solution.
We also have the latest advancements in postage meters and other mail-handling equipment that can speed shipments and assure the most accurate application of postage, avoiding excess costs. Even rate updates can be automated.
Modern postage equipment has features that large and small businesses can utilize to boost productivity:
● Scalability that grows with your company and your mailing requirements
● Functions that feed, fold, insert, seal, apply the correct postage, to get important documents on their way quickly
● Upgradable with additional features when needed
● Save time and money, and reduce manual errors
XMC helps clients select the best mailing solutions that handle direct mail and other business-critical mailings quickly and efficiently. Contact us today for more information.