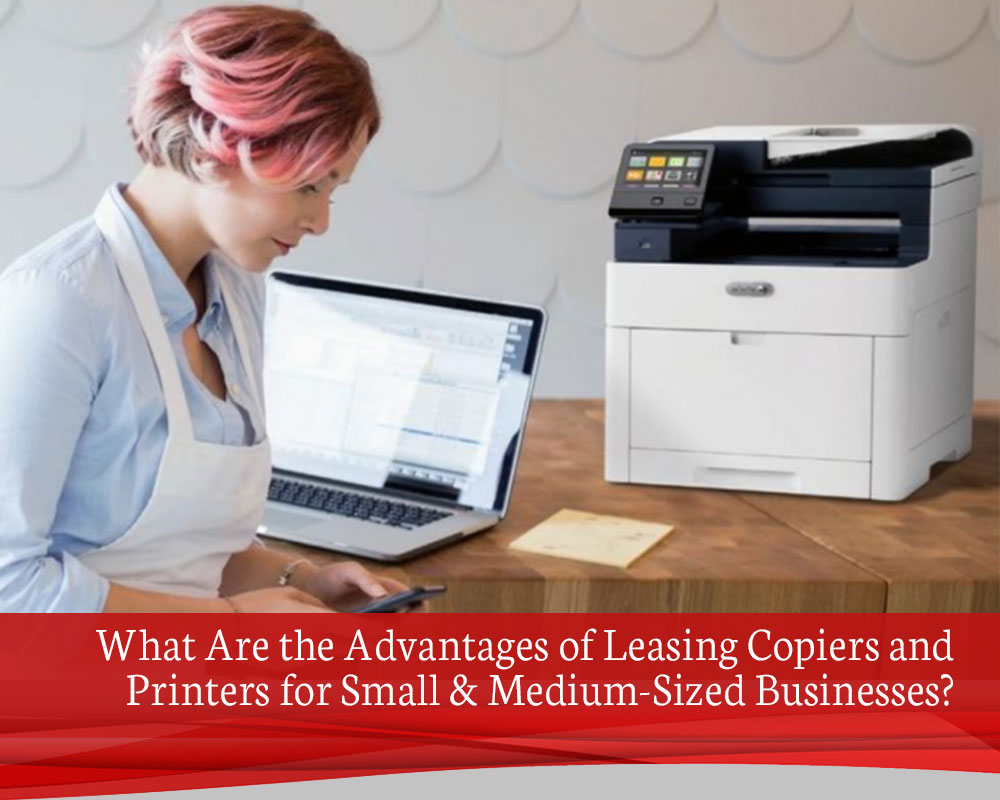 Though every office is different, it should still probably go without saying that there are certain types of equipment that you should expect to find in every one of them.
Computers are an obvious example. Telephones would be another one. Printers and copiers are two more. No matter what a company does or what kind of activities its office entails, it's hard to imagine how one would function without a sufficient number of printers and copiers.
Unfortunately, the fact that they're so vital often leads many people to take their procurement for granted. They simply assume that they must be purchased, never realizing that printer and copier leasing are realistic options.
The 7 Advantages of Copier Leasing and Printer Leasing
If you're not sold on the advantages of printer leasing and the benefits of copy leasing, here are seven reasons other SMBs (small and medium-sized businesses) are no longer purchasing these important types of equipment.
1. Keeping Your Printers and Copiers Up-to-Date
For many companies, one of the biggest advantages of printer leasing is that they don't have to worry about the total cost of ownership (TCO) of this equipment.
Though their TCO has dropped over the years – and managed print services definitely help – the initial amount can still be overwhelming for an SMB, especially if the company is still just a few years old.
2. Predictable Monthly Costs
Similarly, leasing comes with predictive costs every month. There are no surprises. You know exactly how much of your budget needs to be allocated for these expenditures every month and the timeframe the lease agreement will last.
3. No Upfront Payments
Obviously, one of the most attractive benefits of printer and copier leasing is that your company doesn't need to pay anything upfront.
This is good news for SMBs, which don't always have the kinds of budgets that allow for large expenditures. Without any upfront payments, your company doesn't have to forego the necessary advantages of printers and copiers in order to protect your budget.
4. Positive Cashflow
When people consider the prospect of leasing or buying a new printer, cashflow is almost always left out of the equation. That's an unfortunate mistake, as positive cashflow is especially important for small- and medium-sized businesses.
Companies that lease their printers and copiers have more money on hand – because they don't have large upfront payments – so that they can then invest in high-ROI activities. This includes boosting employee salaries, launching new marketing campaigns, or even research and development of new products/services.
5. Keep Pace with Competitors
If you appreciate that the right office equipment can be a major advantage, then one of the major benefits of copier leasing is how easily you can keep pace with your competitors.
The Xerox ConnectKey is a good example. This technology was only introduced in 2017, but it's already finding fans in companies of all sizes – including SMBs – across almost every industry. It turns regular multifunction printers into major hubs of unprecedented productivity.
It's a force-multiplier for any office that harnesses its full potential.
Fortunately, if you're currently at a disadvantage because your competition is using this powerful tool, you're just a simple lease away from immediately evening out the playing field.
6. No Future Hassles
What many SMB purchasing managers don't think about when they decide to buy printers and copiers is that, at some point, they need to either resell or dispose of it. This can be a major hassle, even an expensive one.
Furthermore, they often don't anticipate their equipment's ongoing maintenance needs.
Leasing equipment means its eventual replacement is a breeze and maintenance is included in the plan – no hassles required.
7. Advantageous Tax Benefits
Every SMB needs to pay attention to the tax deductions they potentially qualify for every year. These deductions are often essential for helping to take some of the sting out of major purchases.
Printer and copier leasing means you only owe taxes on each payment you make, not on the total value of the equipment.
That's far less than paying the taxes upfront on a purchase that will cost thousands of dollars (considerably more if you purchase more than one copier and/or printer).
Start Enjoying the Benefits of Printer and Copier Leasing
When it comes to the question of whether to buy or lease a new printer or copier, the answer is almost always that it's much better to lease. However, the team at XMC has leasing and financing options available on the latest copiers and printers. Our team will provide key details for both choices upon request.
Even if you understand the benefits of copier leasing and printer leasing as laid out above, please feel free to contact us if you have any questions or would like to discuss our specific leasing process. The team at XMC would love to hear from you.