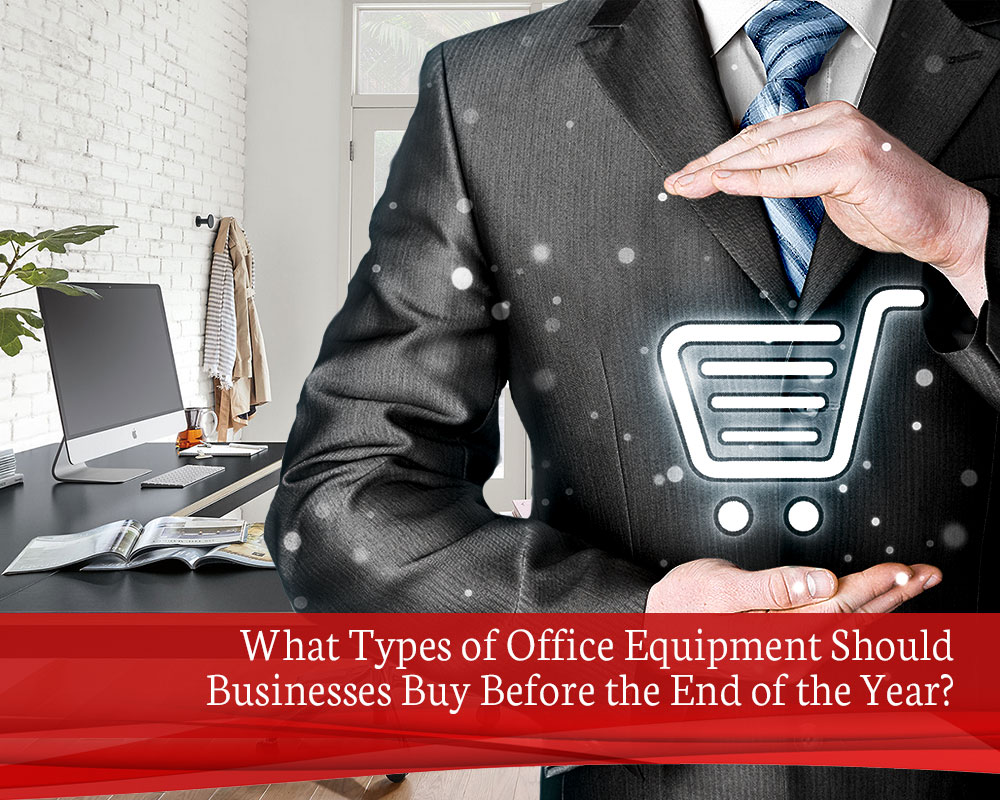 Business success often comes down to simply having great timing. Executives who know how to time their actions well can consistently put themselves in advantageous business situations.
This is true when it comes to hiring new talent, launching new products and services, and even investing in the office and its equipment. Business owners and office managers who time their purchases correctly gain access to the most sophisticated copiers, printers, and multifunction devices at the lowest possible rates.
For many company owners and enterprise executives, the best time to buy office equipment is the end of the year. There are good reasons for this – executives and office managers who leverage those reasons equip themselves with best-in-class office technology.
How to Maximize Tax Benefits When Purchasing Equipment
One of the main reasons why timing is so important to office equipment acquisition is the relationship between income, expenses, and tax liability. As businesses reach the end of the tax year, they can start weighing the option of receiving income in this year or the next year. Those who receive income in the year with lower profit minimize tax liability by doing so.
For instance, consider an executive who knows he will report a loss this year, but expects investments will pay off next year, leading to a significant profit. The executive should encourage customers to pay this year, and use the funds for tax-deductible equipment purchases next year.
Businesses can also use this opportunity to write-off office equipment that is damaged or obsolete. The full value of obsolete equipment is often tax-deductible. When it comes to damaged, partially functional equipment, a business can only list the relative reduction in value as a tax write-off.
Take an old multifunction printer, for example. An organization can write off the reduction in value due to damage or purchase a new printer and write off the entire value of the obsolete device. By timing this acquisition correctly, the business can take a significant portion of the new printer's cost out of the picture.
Paying special attention to the timing of income, deductible expenses, and tax reporting can lead to significant reduction in overall tax liability. Speaking to a tax adviser beforehand is a crucial step towards maximizing these advantages.
What Equipment Should Businesses Buy?
Generally, the end of the year is the best time of year to buy office equipment. Not only are most electronic products already discounted – manufacturers and retailers are looking to maximize their tax benefits too – but individual office departments are in the last days of their annual budget allotments.
In most cases, leftover funds won't carry on into the next year, meaning that budget surpluses are effectively annulled. Since leadership has no incentive to maintain a budget surplus, management's best option is to put that money to work upgrading aging infrastructure and putting the office in the best possible shape to handle the demands of next year's workload.
Xerox recommends looking for investment opportunities in green initiatives that offer tax incentives. If an organization can't accurately project what next years' needs are going to be, implementing solutions for improving the efficiency and environmental impact of daily processes is a safe move.
Consider investing in new multifunction printers that offer better total cost of ownership figures than the current fleet. If an office can use print consumables more efficiently, it can reduce the overall cost of operating the business.
• Xerox AltaLink Series. Available with both monochrome and color printing capabilities, the AltaLink series is a powerful and scalable printing solution that offers secure copying and scanning with optical character recognition through Xerox ConnetKey technology. The AltaLink c8055 benefits from no less than three environmental certifications.
• Xerox VersaLink Series. The VersaLink c405 is a smaller and more accessible multifunction printer that supports A3 and A4 paper sizes and is capable of printing up to 50 pages per minute. It packs Xerox's robust ConnectKey platform into a small package at a price that any office department can afford.
Trust XMC for Business Office Equipment Purchases
Xerox AltaLink or VersaLink multifunction printers may not necessarily offer the right fit for an office's needs. XMC's print and IT infrastructure experts can help executives and office managers find the ideal office solution for any business's demands and improve productivity throughout the company.
Speak with one of XMC's knowledgeable IT experts to find out how this year's most advanced equipment releases can help improve office processes and handle next year's challenges with ease. The best time of year to buy new equipment is right now – don't let the opportunity pass by.
Looking to upgrade aging infrastructure while getting ready for 2019? Talk to an XMC office equipment expert to find out what new technology can be deployed.