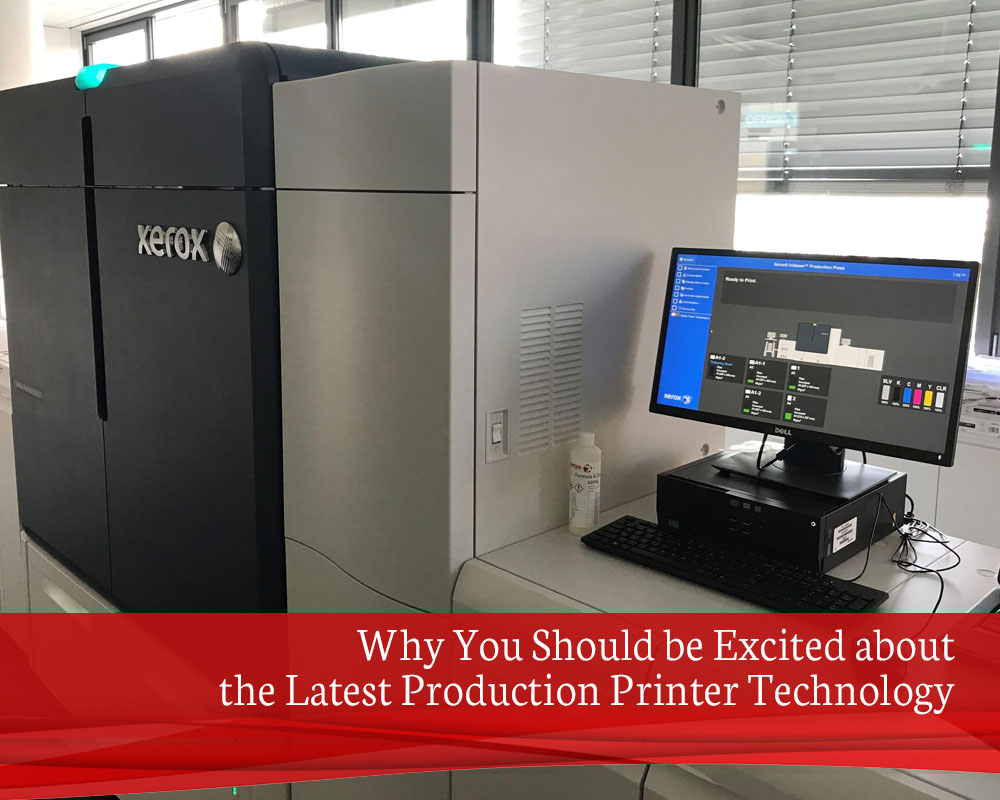 It is 2019 and print marketing is thriving. Some 84 percent of millennials take the time to look through their mail, defying the decades-old refrain that print is dead. Printer technology is racing forward to new levels of innovation and performance.
In the twenty-first century, printing has evolved into a staggering array of remarkable technologies as suppliers find perpetually more innovative ways to bridge the physical and digital worlds. It may be the digital era, but the latest tech in production print is keeping printed material as relevant as ever. Here are a few of our favorite new features which push the limits of application and opportunity in printing.
The Latest Production Print Tech Will Redefine Printing
In 2018, Xerox unveiled a set of cutting-edge printing solutions which showcased the latest printing technology. The Xerox Iridesse Production Press redefines brilliant with its powerful new capabilities. It promises faster, simpler, and more beautiful printing to help businesses stand out from the others.
Harness Vibrant Iridescence with Color FLX Technology
Printers have long been restrained by the use of CMYK, the standard in the printing industry. CMYK color is built using a subtractive process, meaning that colors get darker the more they're mixed together which isn't always ideal for businesses. While the Xerox Iridesse still uses CMYK, a groundbreaking innovation called EZ Swap lets users layer two specialty dry inks over or under the CMYK printing.
It has previously been necessary to print metallic layering separately over finished material. In contrast, the Iridesse prints in metallic hues in a single pass. New Color-Logic software unlocks watermarks, metallic gradients, and other specialty effects with a few clicks. Printing jaw-dropping material is not just possible with the Iridesse. It's easy.
Color FLX Technology introduces:
· The ability to print in 1200 x 1200 x 10-bit RIP rendering Ultra High Definition resolution
· An innovative low-gloss toner to produce crystal-clear details
· Clear dry inks for spot or flood embellishments
· Multi-pass capabilities for dimension and visual intrigue
Amplify and Simplify Print Production with Extra Long Sheet Sizes
As a high-impact printing production press, the Iridesse is built to drive results by making the most sophisticated of jobs seem easy. Xerox helpfully equipped it with the ability to handle every type of non-traditional stock size and weight, then took it a step further.
The Iridesse can handle sheets up to 13 inches wide and 47.24 inches long. It can print double-sided on sheets up to 28.5 inches long, giving it the ability to print a much wider range of materials than the average production press.
The Benefits of Production Print Machines over Smaller Printers
Still using a small printer without any special flare? You may want to consider investing in a production printer or run the risk of being left behind. Xerox production printers are laying the groundwork for what to expect as the new norm in modern printing.
The Iridesse does what many people long thought was impossible: it makes metallic hues accessible, and it obliterates the stock size limits once assumed to be the final frontier of printing. It also sets the stage for a new era of production print machines which will ultimately lead to a rethinking of printed material.
All of these things make salient the benefits of production print machines over smaller printers. In particular, production print machines:
1. Have a Wider Range of Applications
The Iridesse pushes the limits on what is possible in both printing and stock. However, even light production printers such as the Xerox D-Series introduce a level of flexibility which smaller printers cannot achieve.
2. Emphasize Efficiency and Ease of Use
Production printers aren't built to handle simply quantity: they do so quickly as well. With speeds ranging from 50 to 300 images per minute, production machines help keep employees focused on other, high-impact tasks.
3. Leverage the Power of Automation
Central to the ability of a production machine's ability to work quickly lies its emphasis on automation. By automating features such as paper loading, watermark placement, duplex printing, and other common features, production print machines work faster, with fewer mistakes, and fewer opportunities to introduce human error.
Industry Wide Appeal!
We are excited about the latest tech in production print. The innovations unveiled by Xerox in its newest lineup for heavy-weight production printing mean new capabilities are on their way for the industry as a whole.
The Iridesse remains the first in its class to introduce six-color printing, easy metallic over and underlay, plus new frontiers for stock size. However, we can expect to see similar features in more printers before long.
Budget and need may preclude investing in a workhorse like the Iridesse for many small businesses. The promise of a paradigm shift in print marketing design, however, means that small businesses should strongly consider evolving to retain a competitive advantage on this front, or finding one of the incredibly talented Xerox Print Shops in their area.
Not sure where to start? Reach out today to start a discussion with an expert about how to best evolve your business' printing capabilities.