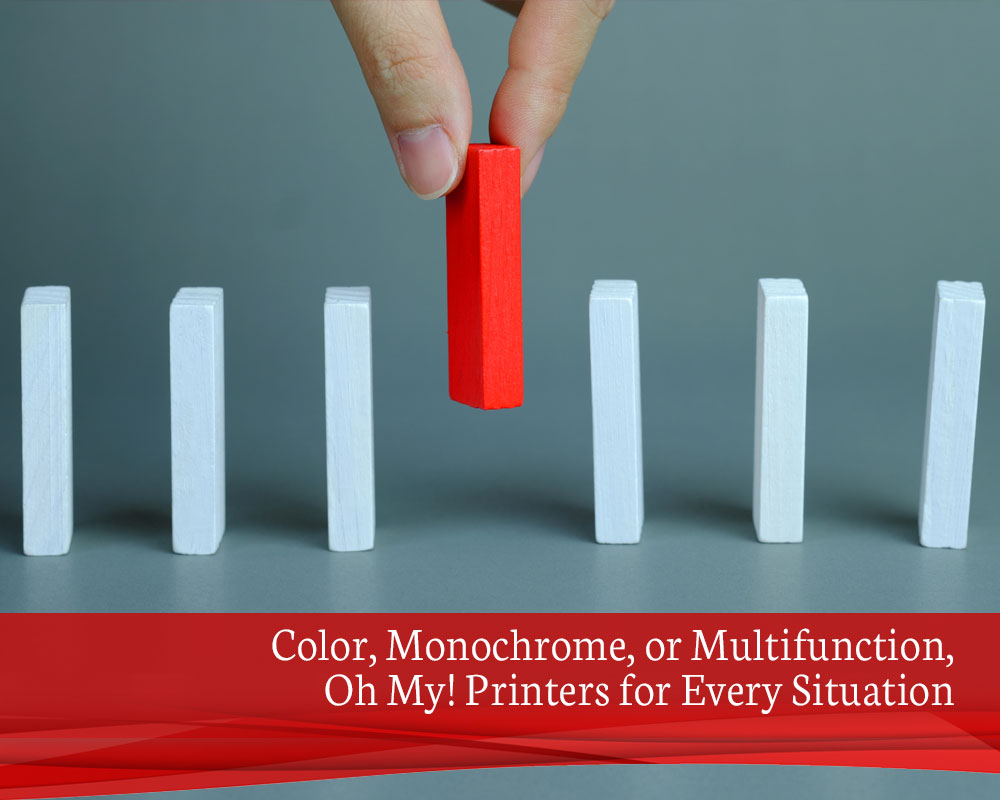 Buying a printer represents a major investment for most organizations. With price tags reaching into the thousands of dollars, the search for the perfect device can prove stressful, tedious, and time-consuming. To add to that, businesses are faced with dozens of models from a handful of manufacturers, each with their own recommendations. Choosing between color and monochrome or specialized and multifunction printers requires careful consideration when the right printer can propel an office to new levels of productivity.
XMC specializes in helping startups, SMBs, and established enterprises choose the best device for their needs. Read on to discover insights which will help simplify and guide the selection process.
Color Vs. Monochrome
Should an office have a color or monochrome (black and white only) printer? It's one of the first questions which comes up during the selection process, and it's an important one. Choosing between these two options affects the entire process. The question of whether or not an office needs color printing:
● Affects price because it will determine if an office needs an inkjet or laser printer.
● Affects versatility as it may open or close the door to options such as multifunction printers.
● Affects print capabilities as it is most influenced by the type of printing the office does.
Neither monochrome nor color is better or worse overall. In fact, many modern printers comfortably print in both. However, consider leaning towards one or the other if the company's printing needs clearly reflect any of the scenarios below.
When Is Monochrome Ideal?
Monochrome printing lies in the domain of laser printers – the fast, efficient, precise devices which rely on heat-fused toner to deliver crisp lines of text. Choose a printer which only does black and white printing when:
● The office primarily prints text-based documents with minimal images.
● The office needs a high-speed device.
● Cost-savings are a priority.
In these cases, monochrome printing is an efficient, cost-effective solution which helps a company manage its printing expenses in the long run. Education institutions and healthcare organizations, in particular, often benefit from the advantages of monochrome printing.
What Jobs Require Color Printing?
Many quality color printers rely on inkjet technology. Rather than toner, inkjets mix drops of ink on the paper to produce the desired colors. As such, inkjet printers often don't print as quickly and may have a higher cost of operation in the long run. However, many jobs require color printing to create a professional impression. Therefore, some instances do exist when an office may prefer color printing, including:
● Producing photographic quality graphics is a core function of the business.
● The company desires better control over its marketing collateral.
● The office is very small, with light printing requirements which would make the lower upfront cost of a color inkjet printer more strategic.
In general, consider a color printer only if the office regularly prints jobs which specifically call for it. Otherwise, a monochrome printer delivers savings in its efficiency and low cost of operation.
Multifunction Printers
In addition to the question of color, organizations are also faced with the choice between multifunction printers (MFPs) or specialized devices. Whereas a specialized printer only prints, an MFP handles most of the document processes for an office such as scanning, printing, copying, and even faxing in one convenient device. MFPs have several major advantages over specialized printers, including:
● A higher impact footprint due to its multiple capabilities.
● A lower cost of maintenance.
● The ability to integrate with an office workflow through features such as Xerox ConnectKey.
Specialize printers, on the other hand, trade versatility for raw printing power. Companies with demanding print environments which need to produce high-end printed materials on a regular basis may wish to consider a dedicated printer or even a digital press.
Monochrome vs. Color MFPs
As printing technology has gotten more sophisticated, it's become easier for printers to expand their capabilities. MFPs – traditionally laser printers – have long been monochrome printers. However, it's now possible to find laser MFPs which print in color. For many companies, these represent the best of both worlds: the efficiency of an MFP and a laser printer married to the flexibility of a color printer.
XMC Helps Companies Choose the Best Tools for Success
In the market for a new printer? There's a lot to think about – and XMC can help. Our team of specialists will help guide you through the choices between color or monochrome, and whether the office would benefit from a multifunction printer or a specialized device. A printer is an investment: make it a good one by partnering with demonstrated experts.
XMC has 27 years helping healthcare, education, and legal organizations optimize their workflow by deploying the best Xerox devices. Contact us today to discover the best options for your next office printer.