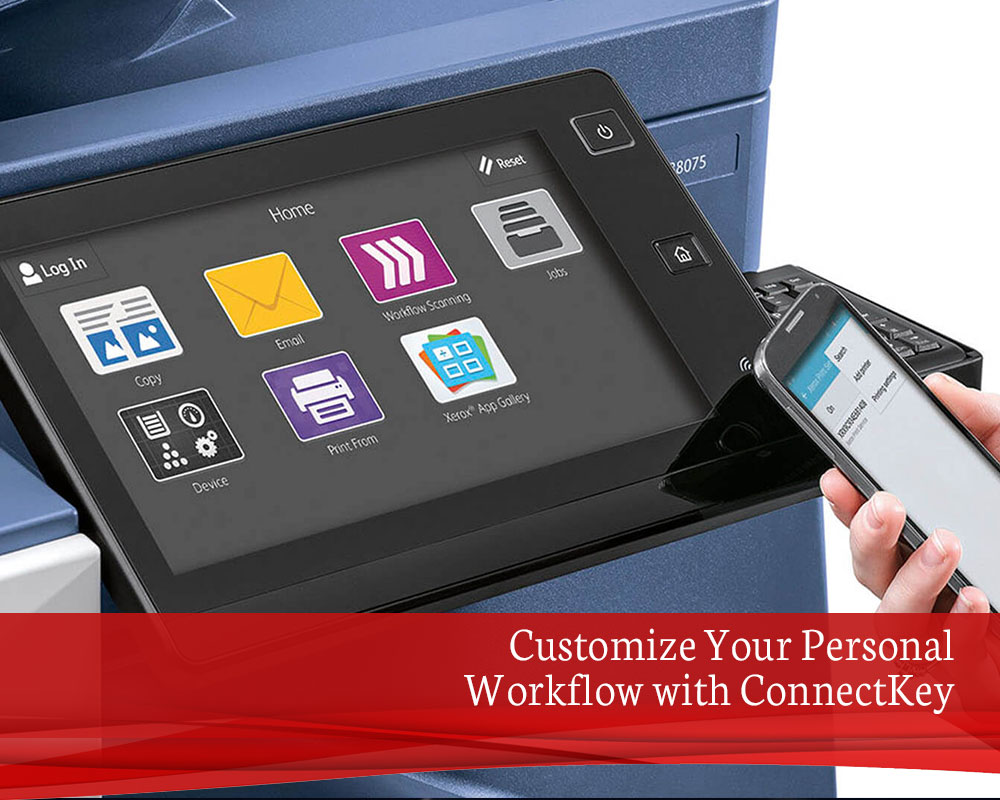 Xerox printers are more than just multi-function devices which handle all of an organization's printing and copying needs. To support their role as a critical part of business infrastructure, Xerox developed ConnectKey to introduce seamless integration between office printers and the existing digital infrastructure of modern businesses.
ConnectKey enables the customization of productivity ecosystems which rely on printers to get jobs done. Businesses which use printers in the VersaLink or AltaLink families can benefit from implementing ConnectKey. Here's a rundown of the technology's features and the benefits it brings to customizing a personal workflow.
What Is ConnectKey?
ConnectKey Technology is software which comes installed on all VersaLink and AltaLink printers by default. Users then install ConnectKey on other WiFi connected devices such as smartphones, tablets, and laptops. Using cloud connectivity, ConnectKey helps users manage documents in one easy location through whichever device they happen to be using.
What Makes ConnectKey So Great?
ConnectKey introduces several major advantages to the modern business ecosystem. For organizations already using Xerox printers and multi-function printers, it's a low-disruption, high-impact strategy to get document management under control. ConnectKey introduces four major benefits:
1. Leverage the Expansive, and Fast-Growing Xerox App Gallery
The Xerox App Gallery houses dozens of apps built by both Xerox and third-party developers which interface with the ConnectKey software. It is an expansive, fast-growing gallery designed to provide the productivity tools a business needs as it grows and evolves. Currently, the app gallery contains specific productivity tools for needs such as:
· Cloud connection and storage
· Offline printing
· Assessing compliance
· Translation
· Optical character recognition
· Workflow development
· Fax optimization
· Document conversion
· Form management
· Proofreading
The best part? All of these apps are accessible from ConnectKey whether first installed on a laptop, tablet or multi-function printer touchscreen.
2. Master the Interface Quickly and Easily
ConnectKey makes its most powerful functions accessible through a task-focused, easy-to-learn interface. The simple, intuitive design looks and functions like a tablet, reducing the time employees spend mastering yet another system.
Additionally, the interface remains consistent across devices which have ConnectKey installed. Common functions are always found in the same place, so a user need only learn the interface once to engage with the entire fleet.
Finally, ConnectKey comes installed on many Xerox printers and requires no specialized IT support for installation on other devices. A wizard does the heavy lifting and users need only select the tools which best help them work.
3. Amplify Productivity with Your Own Customized Screen
ConnectKey comes with additional customization for screens on different devices. This customization lets different users access the functions they most need to accomplish their tasks, and organizations to set up their document ecosystem for their unique needs.
It also allows users to set one-touch buttons to automate workflows to or from cloud and network locations. Users may enjoy customization tailored to an individual level, beyond the processes which the organization has specifically built.
4. Integrate ConnectKey with Your Other Personal Workflow Tools
The modern business uses a host of management and organizational tools. Fortunately, ConnectKey integrates with other non-Xerox workflow tools which an organization or user may be using. With ConnectKey, users can effortlessly connect to, fax and print from:
· Google Drive
· Google Cloud Print
· Microsoft OneDrive
· Microsoft Office
· Dropbox
· Apple AirPrint
· SalesForce
· QuickBooks Online
· Amazon Workdocs
Cross-platform compatibility reflects the reality of the modern business ecosystem. Friction-less integration speeds transformation to turn organizations into productivity powerhouses.
5. Rest Assured Your Documents Are Safe on Whichever Device You Print From
With documents accessed and manipulated on multiple devices, it may seem as though this presents a security risk for a company. However, ConnectKey applies the robust four-point document security measure which Xerox implements on all its devices:
1. Intrusion Prevention: ConnectKey secures all access points to thwart malware, unauthorized access or transmission, and malicious attacks.
2. Device Detection: A built-in, comprehensive Firmware Verification Test runs each time an authorized user accesses ConnectKey.
3. Document and Data Protection: ConnectKey complies with NIST and the US Department of Defense-approved data and clearing and sanitization algorithms to ensure that no documents are intentionally – or unintentionally – transmitted to or from unauthorized users.
4. External Partnerships: Partnerships with McAfee and Cisco introduce additional layers of security as well as integration with the cyber security experts to which businesses commonly turn.
Customize Your Workflow with ConnectKey
For an organization already using the AltaLink or VersaLink Xerox printers, the implementation of ConnectKey is simple and smart. ConnectKey transforms a digital infrastructure into a productivity ecosystem by bringing key document functions under one roof.
Ready to gain control of your office's productivity and document environment? XMC has insights on the best strategies for applying ConnectKey in any office environment. Contact one of our office technology experts to begin your digital transformation.