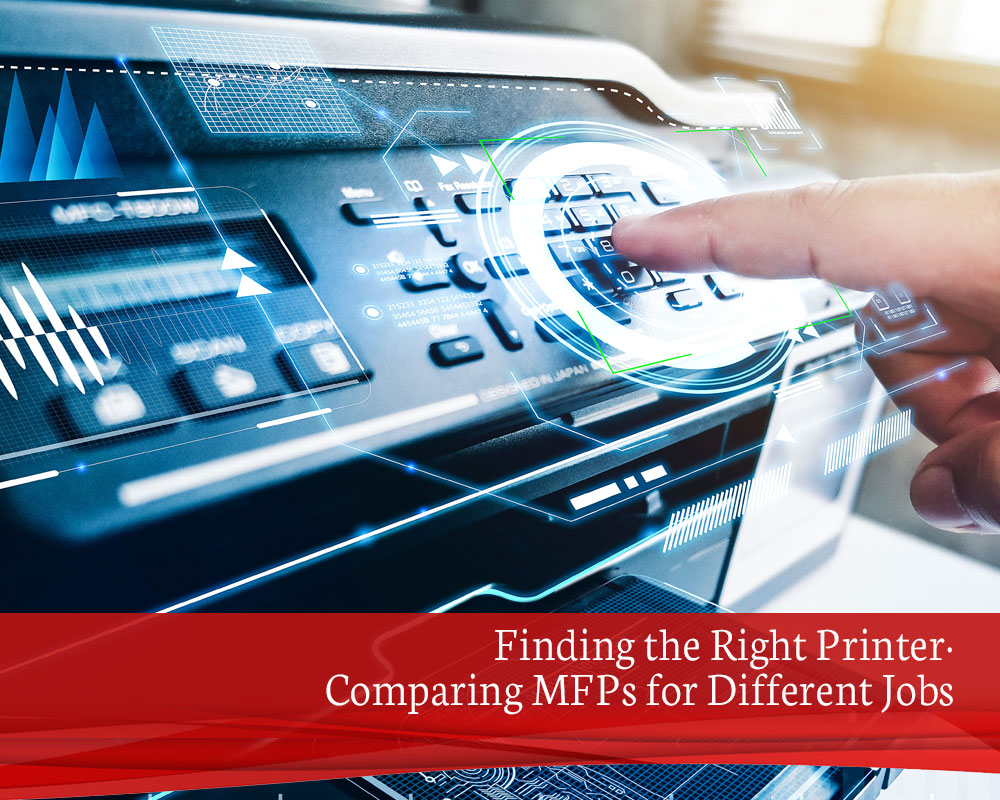 Think all multifunction printers are the same? Think again. Despite their reputation for being the cornerstone of the office workflow, there are many different types of MFPs on the market today. Each of these has unique advantages which make them more suited to specific environments.
Any company which is in the market for a new MFP should take a moment to consider these differences. Choosing the right one will mean the difference between an expensive, frustrating experience and the delight of increased efficiency across an office.
MFPs are wonderful devices, but like all office technology, they differ from model to model and brand to brand. Read on to discover the different types of MFPs on the market today, and which one might best benefit a specific business.
Types of MFPs on the Market Today
Not all MFPs do the same thing. While they're all categorized by their ability to house several functions within one device, those specific functions may vary. In general, there are four major segments or categories of multifunction printers.
1. All-In-One Printers
AIO printers are the smallest variations of multifunction printers. They're often small units capable of sitting atop a desk. As such, they're designed for home or very small office use. These devices emphasizing scanning and printing functionality, but it's possible to find with more advanced features such as optical character recognition.
Likewise, many AIO printers come with technology such as smart card readers and the ability to connect directly to digital cameras – capabilities which a home user might need but a corporate office usually won't. AIO printers use both inkjet and laser printing technology.
2. Small Office/Home Office Printers
SOHO printers are slightly larger than AIO printers and take advantage of automation in more of their functions to produce printed materials fasters. Additionally, SOHO printers are the smallest class of MFPs which typically include faxing and photocopying capabilities – though they are often limited in both of these features.
Likewise, SOHO printers assume that some business-type material will pass through it. Therefore, they typically come with basic data security mechanisms such as user authentication. However, SOHO printers still lack many of the connectivity and integration capabilities which are seen in larger MFPs today.
3. Office MFPs
When most people visualize an MFP, it's the office MFP which comes to mind. These free-standing units are designed to constitute the central part of an office workflow. They come with advanced connectivity options, full integration capabilities, and several print settings to facilitate the production of higher-end documents.
Additionally, office MFPs boast much higher output speeds than smaller devices. Some devices, such as those by Xerox, can print at speeds of over 100 pages per minute. To achieve these speeds, office MFPs typically leverage the ultra-efficient laser print hardware and only print in monochrome (black and white).
4. Production MFPs
Production MFPs are the largest class of multifunction devices available on the market. These are production printers – large, industrial devices capable of printing professional-quality materials – blended with the versatility of an office MFP. Production MFPs run the gamut of fast, efficient devices to those capable of producing photographic quality images.
As production presses, they're built for large and specialized print jobs. They typically come with advanced finishing features such as binding, metallic overlays, and the ability to print on more than just paper. Versatile and powerful, production MFPs prove useful in environments with demanding printing needs.
The Importance of the Right Printer for the Right Needs
When it comes to an MFP, a device which is too small can hamstring operations. However, neither is bigger always better. Choosing the right type of MFP is important for optimizing the print environment. Consider some of the following features and needs which may make certain devices more appropriate than others.
● Speed. Offices with a demanding print environment or which routinely print of large quantities of documents – such as law firms – will benefit from a fast, highly-connected laser MFP. These offices don't need the feature-rich options of a production MFP but will print beyond what a SOHO MFP is capable of producing reliably.
● Cost. A home office, small business, and startups will find themselves subject to a tight budget and may have minimal printing needs. For them, an AIO MFP may be just the ticket to achieving printing capabilities without breaking the bank.
● Security. Companies which need to place special emphasis on data security, such as financial institutions and healthcare organizations will find themselves best-served by a high-end office MFP. Brands such as Xerox deliver high-quality printing plus best-in-class security with their devices.
● Versatility and quality. When it comes to achieving the highest quality of printing, a production MFP is the way to go. For companies such as those in the creative industry, anything less than a production printer may hamper the ability to produce the level of printing the company needs.
● Centralized printing. Educational institutions and offices alike benefit from centralized printing. It's efficient, visible, and easier to track. For these environments, a production printer confers too much firepower and a SOHO printer not enough. They need a solid office MFP which can connect to workgroups, servers, and computers with ease.
Get the Right Printer With XMC
There are many different types of MFPs out there, but the best MFP is the one which best meets an organization's needs. Before purchasing your next printer, check with the experts at XMC to discover the best device for you.
XMC helps companies achieve operational efficiency with the right devices. Contact us now!