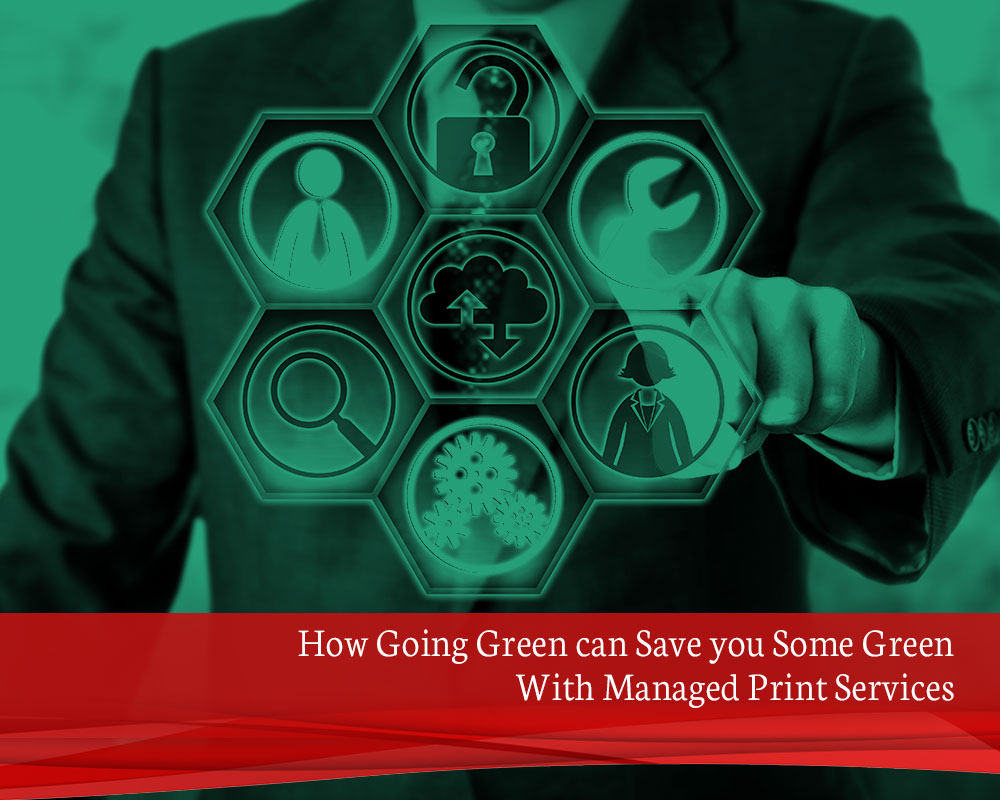 It is more and more common to see businesses setting targets that are not only based on sales numbers, client attraction, or employee retention. While those targets are all still important, many businesses are considering sustainability targets as well.
The trend has become especially popular as more people become aware of environmental issues and work to reduce their usage of everything from single use plastics to paper in the office. Some businesses even strive to achieve a completely paperless office. While that may be a lofty goal for others, reducing paper usage can have both environmental benefits as well as reduce expenses on paper, toner, ink, and other products.
Of course, achieving such a goal is easier said than done. This article will help outline how managed print services can help a business become more sustainable and efficient.
Managed Print Services is Not Just About Printing
It's common for people to think that managed print services (MPS) simply refers to printing paper documents. It's easy to see why – "print" is right there in the name. However, multifunction print devices have become so powerful these days that they can do so much more than just print. In fact, when paired with the right MPS software, these devices can actually help lower print usage within a business.
The first step to becoming more sustainable with managed print services is to think beyond basic printing. This can also include everything from document capture to document storage. With the right managed services company helping businesses, MPS can actually lead to a reduction in printing.
Some leaders in the print industry have started referring to managed print services as managed document solutions or MDS as these plans encompass a multitude of tasks and needs related to document management and production
The Environment is a Hot Topic
Why should businesses care about becoming sustainable? The environment is top-of-mind for many people these days and many are looking to businesses to lead the way when it comes to sustainability. Up to 40% of the world's forests are cut down to make paper. This is a staggering number that should be a concern to all people.
A true MPS strategy helps you reduce paper. It's good for the environment and reduces cost. Print management software like PaperCut or Equitrac do a lot to help. If you have a recycling bin near the printer, you need a print strategy. A big part of the environmental aspect is finding ways to reduce print waste and have more efficient devices through technology and better print practices.
Becoming sustainable is about more than just saving trees. Businesses have also begun to use sustainability efforts as a part of their marketing or employee retention. People who care about the environment want to support businesses that share those same values.
Similarly, employees that are concerned about the environment want to work for a business that is striving to reduce paper waste and usage. A managed services company can help a business achieve those goals and begin creating a more positive, environmentally sustainable reputation.
Efficient Capture and Storage of Documents
In order to reduce paper usage, businesses must have a better alternative. With managed print services, efficient document capture and secure storage helps provide that alternative to printing paper documents.
One of the main challenges that businesses face is how to manage incoming documents and store them in a way that makes them accessible. The default position is to print out documents and store them in paper folders where they can be accessed by all employees. Of course, with new, modern ways of managing documents available, this old method is wasteful and inefficient. It opens up the document management process to human error, as well.
The solution is managed print services. Documents can be instantly captured from any device, including mobile devices, and stored in digital folders where all employees can instantly access them. Paper documents received can be converted and recycled while the rest of the work is done digitally.
Of course, printing may not always be completely eliminated. However, with more efficient document capture and storage, employees can be more careful about which documents they choose to print. Only absolutely necessary print jobs will have to be performed while other tasks can be managed without printing at all. The end result is a massive reduction in paper usage, toner or ink usage, and printer maintenance costs.
Finding the Right Managed Services Company
Managed print services can make a huge difference in a company's bottom line as well as the experience they are able to provide to customers. Of course, this requires finding the right managed services company that is willing to help take on the challenge of becoming more sustainable.
To learn more about managed print services and see the potential benefits using their MPS calculator, contact XMC Inc today and ask about sustainability using managed print services.