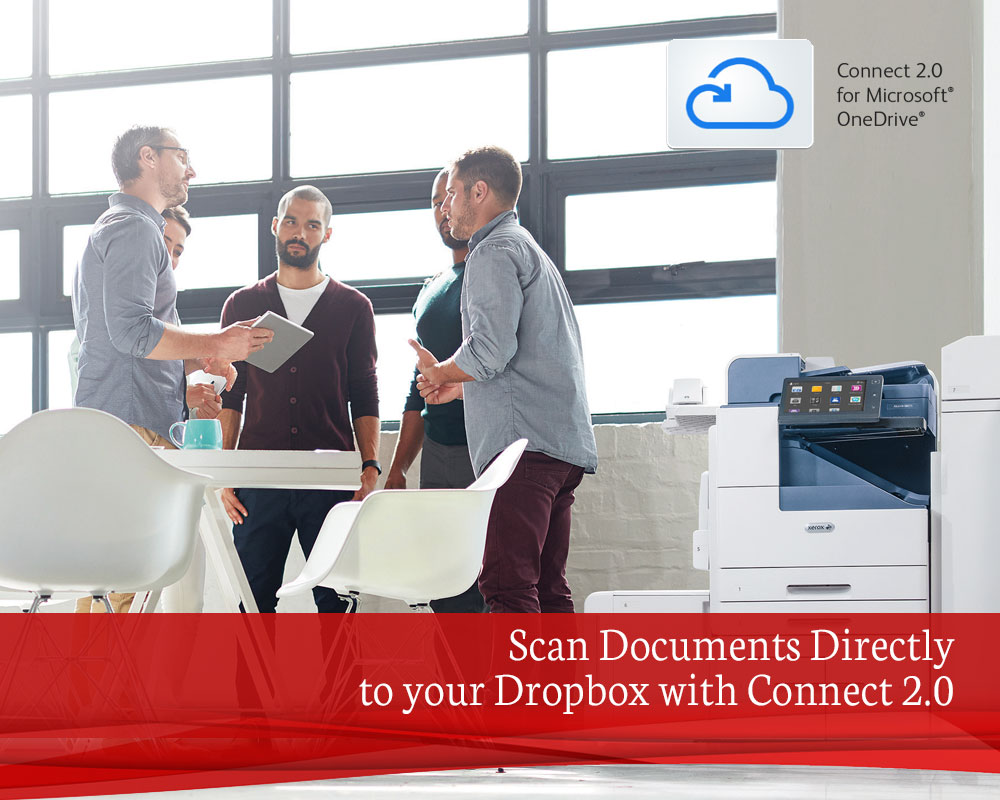 Businesses today need a competitive edge to survive in this unforgiving market. Having superior software and equipment is one of the best ways to stay ahead. Here's what managers need to know about scanning documents directly to Dropbox with Connect 2.0 and how it can help improve productivity.
What Is ConnectKey 2.0 and What Does it Mean for Users?
Xerox ConnectKey 2.0 is software that is cloud-based, which has broken ground with newer features and performances. Some of the benefits company owners can expect from it are:
• An interface that has the same features and apps like a tablet, with a 10-inch touchscreen
• Compatibility on mobile devices, both on Android and iOS. The Xerox app can be downloaded, and documents can begin to be sent and received via mobile
• Top notch security - all Xerox devices are protected, able to detect users who aren't authorized to be using it, and encrypting all documents that are waiting to be printed, keeping them away from prying eyes.
• Apps are customizable - each user can customize their own screens and apps, to the ones they use most often, and connecting apps to work together on their device.
Features of Connect 2.0 App in the ConnectKey App Library
Xerox has created many new apps to work with their devices and networks. Some of these apps have been built by third-party developers. Some of the new features include:
• Apps stored on the cloud - connected to Xerox's multifunction or all-in-one printers to become accessible to Box, Dropbox, Google drive, email, and Microsoft OneDrive.
• Printing when offline - safely print offline when cloud networks are down. One can also print to networks outside of their own. They can also send documents to disk drives, and print out documents, without having to show the hardware to unsafe networks.
• Compliances on-demand - ConnectKey has apps to meet guidelines for businesses like healthcare, to keep everyone happy, and not have to worry about HIPAA problems.
• Translating made easy - ConnectKey translate has more than 40 languages to choose from, making it easier for companies in multiple countries
• OCR, or Optical Character Recognition - this will turn physical documents into digital documents, giving businesses the opportunity to reduce the time that is spent putting in data manually
• Workflow - customizable solutions are made for each individual customer, keeping customers happy will keep workflow going in the company.
The Wide Variety of Apps in the ConnectKey Library
Some of the apps that are powered by Xerox's ConnectKey come in different categories like:
• Education - Blackboard, Connect for Remark Test Grading, Proofreader Service, Connect for Moodle
• Mobile - PrintByXerox, Xerox Mobile Link App
• Healthcare - Share Patient Information
• Cloud Connectors - Connect 2.0 for Box, Connect 2.0 for Dropbox, Connect 2.0 for Google Drive, Connect 2.0 for Microsoft OneDrive, Connect 2.0 for Microsoft Office 365, OptimiDoc Cloud, End of Support Notifications
• Legal - Xerox Auto-Redaction App
• Business - Connect for Concur, Connect for Salesforce, Forms Manager, Scanning App for DocuShare, Connect for QuickBooks Online, XMediusSENDSECURE, SignMe
• Fax - XMediusFAX
• Conversion - Xerox Easy Translator Service, Audio Documents, Capture Point, OptimiDoc Cloud
The Convenience of Scanning Directly to a Shared Folder
The convenience of scanning directly to a shared folder is one of the greatest applications of document management. Xerox ConnectKey empowers businesses with the ability to simplify how they handle their documents which improves workflow and enables smooth project collaboration.
Being able to scan a document directly to a shared folder means that other collaborators on a project can access the documents immediately and begin working on them. Perhaps one of the greatest advantages of this is the speed it affords. In today's fast-paced and wildly hectic business environment, every second counts. Scanning documents directly into shared folders is a savvy way to stay ahead of the game.
Companies save time, money, and energy when they use Xerox multifunction printers and take advantage of amazing ConnectKey apps. Find the right vendor and start experiencing the power of Xerox.
Meet XMC, the Smart Choice for Xerox Products
XMC is a trusted leader for a reason. Their commitment to customers makes them the vendor of choice for those looking for the best in price, quality, and customer service.
Make the right choice and partner with XMC when shopping for Xerox products and start benefitting from ConnectKey's document management tools, call today.