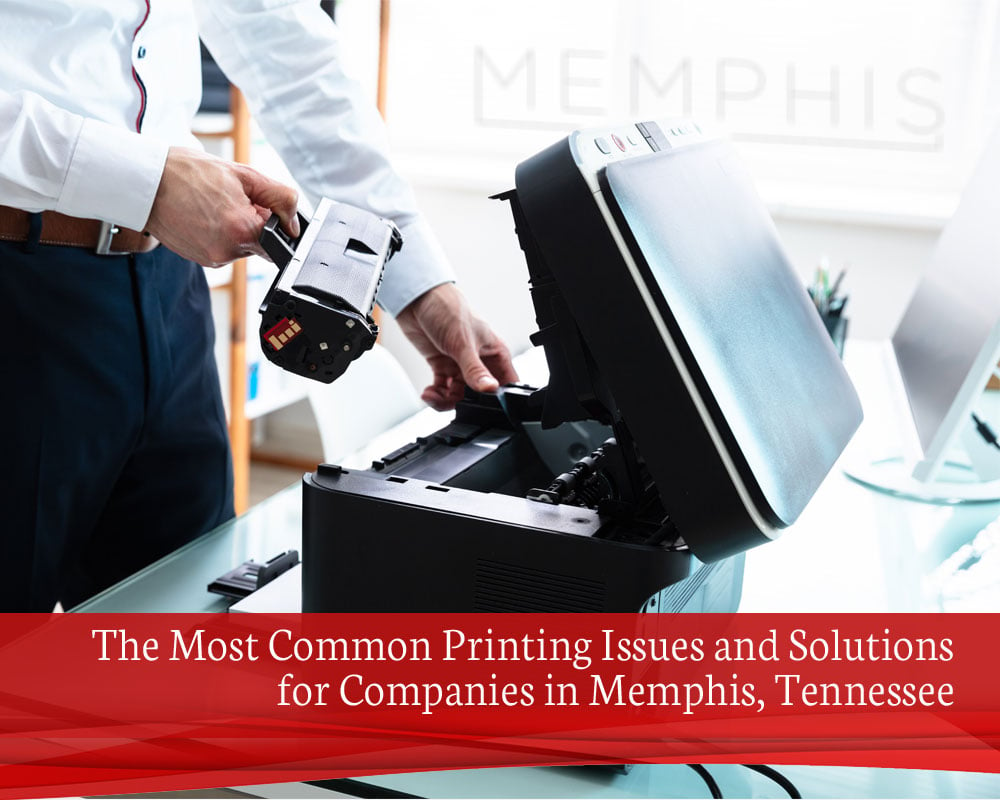 Everyone knows firsthand that technology can occasionally turn up unreliable when they need it the most. Printers are no different – when someone needs something crucial printed quickly, things start to run amok. Common printer problems and their solutions can be difficult to come by, as common as they might seem to be.
The Most Common Printer Problems and Solutions
When printers decide to malfunction, the Internet is the first place a person turns for some quick troubleshooting. Fortunately, other people have had the same problem before and have figured out how to solve it – though the results may vary depending on the account.
We've gathered the most common printer troubleshooting questions and answers that come up frequently in an office. Knowing what causes a printer to act up is a step in the right direction. Following these solutions will allow any office to know what to do the next time a similar issue arises.
1. The Printer Is Not Mobile-Friendly
Not all printers are mobile-friendly, but most printers that are compatible with Wi-Fi should have some sort of mobile connectivity compatibility. Mobile-friendly printing is, realistically, more convenient – printing from a phone is much easier than digging through email online, after all. If a company's printing fleet does not support printing from mobile devices, it may be time to look for a new multifunction printer.
2. The Printer Is Not Secure
Security is one of the most important things about a printer. After all, plenty of print jobs can be intercepted or data hacked. Nowadays, printers are 68% more likely to be the target of a cyberattack or data breach attempt. If a printer's security is overlooked, a company is leaving its sensitive information wide open for someone to hack into.
3. The Printer Refuses to Print
The first thing to check in this situation would be to make sure that the print job was sent to the right printer. In a larger office with a bigger printing fleet, it can be easy for printers to get mixed up. A print job may even be waiting at another device nearby rather than the one it was originally planned for.
Secondly, an employee can check the print queue to see if there are any documents in there that can be canceled. The queue can get clogged easily and slow down the printer. By clearing the queue of any unnecessary items, an employee will save the company money (in both ink and paper resources) while getting to their print job faster.
4. It Keeps Saying the Ink Is Low
Even if the ink isn't about to run out that instant, printers like to give their users reminders that it's almost time for a refill. It's best for a business to stock up on ink before they truly need it. That way, a company can be better prepared for when the ink needs to be changed. Ignoring the low ink warning means playing a dangerous game that may leave one printer in the fleet without printing capabilities until the issue is rectified.
5. Printing Is Too Expensive
To minimize printing, all employees should ask themselves if something truly needs to be printed. If it does, then should the whole document be printed or are just a few pages needed? On the printing screen, there are controls that give the option to choose just the pages that need to be printed – thereby saving money on paper and ink in the long run through more discerning printing.
Around 16% of landfill space is occupied by paper materials. The overuse of paper is costly both financially and for the environment. Knowing this, it may be worth looking into digitizing files. A company that has digital versions of their files is more secure than a business with only paper files. For one, paper is easily lost, but digital versions of important documents can be encrypted and covered with layers of protection. Creating digital copies is more cost-effective than relying on physical copies.
The troubles don't just stop with those above. More issues may arise with time, which may leave employees wrestling with printers and wasting their valuable time trying to figure out the intricacies of the printing fleet.
Find a Solution in Managed Print Services
Managed print services exist to make life easier for those working in an office. They aren't comprised of just the physical printing materials like paper and ink but also the devices – like printers, copiers, scanners, fax machines, and so on – and the people who have the expertise to troubleshoot printer problems. Managed print services take the stress and confusion of working with printers off of employees so that they can get back to work and maximize their productivity with the time they have.
XMC offers managed print services that keep office costs in line while maximizing productivity. We'll help any business learn to control their costs and digitize their files – thereby making them safer in the long run. There's no need for every employee to wonder about common printer problems and solutions when the experts in the industry can handle it for them, leaving them more time to do what they do best.
Contact us for a consultation on how XMC's managed print services can help your business.