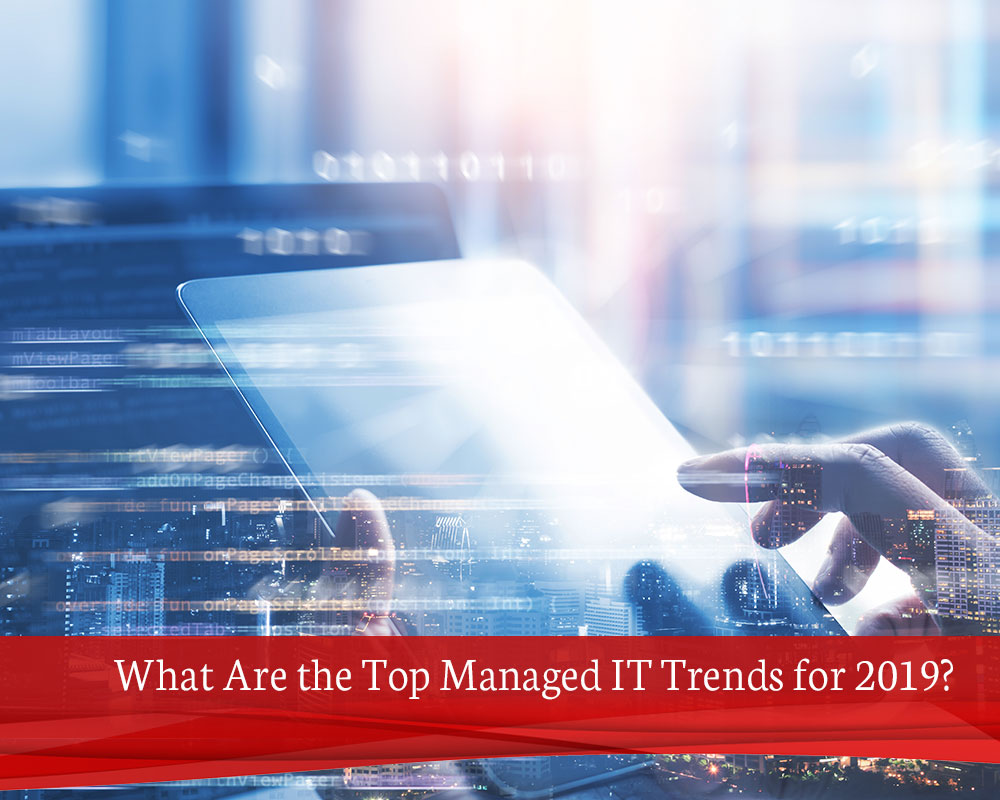 Unlike the latest fashion trends, IT trends can have a huge impact and leave a lasting legacy on those who participate in them. This is because advances in IT infrastructure are beginning to converge along similar lines, creating compounding benefits to the organizations that adopt them.
For instance, managed IT trends are pointing towards greater flexibility and decentralization while offering a more integrated user experience. Organizations that invest in the appropriate infrastructure decisions now can reap the rewards of these decisions for years to come.
This is especially true when it comes to IT security. Perhaps the biggest and most important trend is the unwelcome realization of a fully industrialized global cybercrime complex. This worrying trend is growing, and it is fueling greater emphasis on cybersecurity on all levels of corporate organization.
Taking the right steps today can save organizations from tomorrow's dangers. Keeping up with the latest trends in managed IT services and IT security trends can make a significant difference.
What Will Next Year Bring the Cybersecurity Industry?
In terms of IT security, most of the tech industry's major players are going in a clear direction. They are emphasizing analytics, visibility, and integration while looking to new developments in artificial intelligence for improved predictive performance.
In terms of analytics, security professionals are finding themselves faced with increasingly complex threat landscapes. Cybersecurity contractors are looking for new ways to collect, aggregate, and analyze security data more efficiently.
Currently, a small-sized security operations center can easily find itself responding to tens of thousands of individual security events per day. The need to automatically manage these false positives and filter them out represents a critical step forward in the cybersecurity world.
At the same time, analysts need greater access to visibility into corporate processes so that they can navigate multiple systems with greater ease. Cybersecurity integration will help security professionals improve visibility into the processes they need to protect.
The final, and perhaps most transformative, trend is towards artificially intelligent predictive cyberthreat mitigation. Human security professionals cannot efficiently process thousands of false positive security events every day without making errors – but a properly configured artificially intelligent algorithm can do this easily, but it needs expert human operators to provide that guidance.
What This Means for Business Owners & Office Managers
For business owners and office managers in the commercial sector, this translates to an increased focus on managed service providers who can procure, deploy, and maintain top-shelf technology at affordable rates. It is unlikely that every commercial business will have its own AI-powered cybersecurity solution in place – but they can contract these services from the same pool of high-quality vendors.
The vendor-focused approach will become increasingly important as business owners and office managers look to transform IT-related costs into IT assets that produce value. Simply purchasing a new printer or multifunction device doesn't generate value on its own – that equipment only generates value as part of a larger framework that can just as easily be implemented as an ongoing service.
The outsourced, expert-led managed service industry is set to grow at an impressive pace as large numbers of business owners seek to gain access to best-in-class solutions without being locked into on-premises agreements. This extends both to the world of cybersecurity and to the greater world of IT infrastructure in all its forms.
For instance, cloud storage and solutions-as-a-service offerings are almost guaranteed to rise in importance and market penetration. There is no commercially viable, disruptive technology in place for preventing this from occurring, yet an increasing need for better options in the commercial sector.
Managed IT Services Offer On-Demand Compliance
With cyberthreats looming and the amount of data commercial organizations have to process rapidly increasing, privacy and compliance will continue to be priorities for organizations of all sizes in 2019. Managing customer data securely and effectively is another area where managed services can provide optimal results at a price far below what in-house solutions would cost.
Professional managed IT service providers like XMC can provide businesses with cloud storage and communication solutions that meet stipulated industry-wide guidelines while keeping businesses prepared for eventual changes in policy. The same factors pushing platform-as-a-service and infrastructure-as-a-service solutions forward are pushing commercial sector organizations towards easy compliance solutions from vendors they can trust.
Any company that needs to abide by increasingly complex regulations and guidelines should entrust its IT infrastructure to a reputable service provider that can help put it on the right path forward. This can put best-in-class hardware and world-class expertise within reach, transforming IT performance and allowing for even greater efficiency gains in the long term.
Managed IT services can help any business save money and dedicate resources towards higher-impact tasks. Talk to an XMC IT expert to learn more.