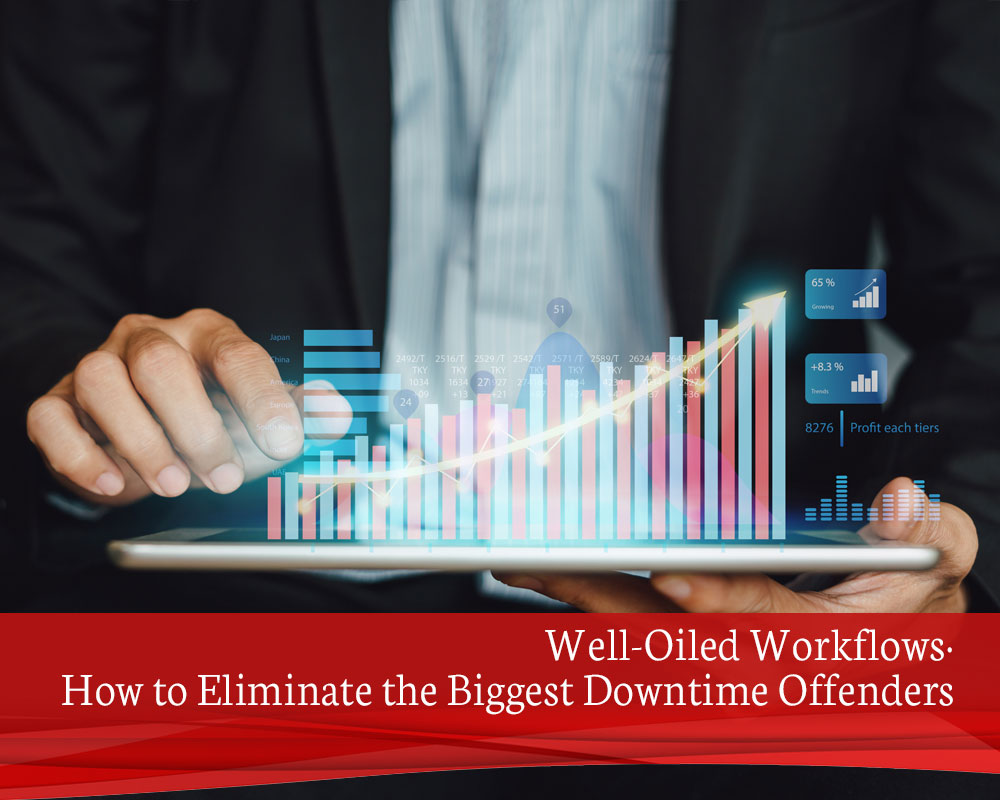 Maintaining operational efficiency is key for any successful business in the 21st century. It's the only way in which companies can keep pace with the breakneck pace of most markets and industries. Bottlenecks, downtime, and contingencies can choke workflows, preventing employees from focusing on what they do best: making the business succeed.
Offices are complex environments. Their workflows reflect this even as companies strive to create an ever more streamlined environment. There still exist a few common causes of downtime with which companies routinely struggle, things which decimate a company's ability to be productive or efficient. Read on to discover the three biggest offenders of office downtime and how to prevent them.
What Causes Productivity to Stall?
Optimized workflows don't happen by accident. They're the result of careful consideration of the tasks which an employee needs to perform to successfully carry out his or her job. Companies spend immense time and money fine-tuning these processes to make them as fast, effortless, and error-free as possible. Nonetheless, even the most well-oiled workflows still fall prey to:
1. Printer Maintenance
With the rise of the multifunction printer, the printer has come to occupy a central location in the office and its workflows. Any document which needs to pass between digital and hardcopy states likely passes through the office MFP. Likewise, many offices centralize their print environment to improve visibility, efficiency, and access.
However, that means when the printer is down, the office workflow grinds to a halt. Documents must flow, and lengthy printer maintenance prevents that.
2. Lost Documents
Lost documents are never fun, but they represent more than just a frantic search through a desk. Whether receipts, contact information or important emails, lost documents negatively affect an office worker's productivity.
Unlike printer maintenance, which has immediate and tangible effects, the consequences of lost documents surface at the bottom line. Lost documents make it harder to prove purchases for reimbursement or follow up on correspondences or leads. They may even wander off in the wrong hands entirely, resulting in a costly data breach.
3. Security Breaches
Security breaches aren't fun, and they're becoming more prevalent. In 2019, some 55 percent of small businesses have experienced a cyberattack. Such an event can shut down computers, lock up records, and wipe out a company's reputation in one fell swoop.
According to IBM, it takes an average of 69 days to contain a security breach. During that time, the company's own IT infrastructure can be a minefield as contaminated systems or files are discovered. Security breaches are the ultimate worst-case scenario, threatening not just a company's productivity, but its very life.
Strategies for an Optimized Workspace
The three biggest offenders of office downtime range from mild annoyances to catastrophic events. However, they can be prevented with the thoughtful use of expert guidance such as managed services. Companies can optimize their workflows and prevent productivity-halting time sucks by deploying services such as:
Managed Print Services
Managed print services outsource a part or all of a company's printing infrastructure to a third-party specialist that takes care of all print-related issues. This includes things like supply replenishment and proactive maintenance that sidesteps more serious issues down the road. With managed print services, offices can:
● Keep their devices in peak condition, avoiding outages from printer maintenance.
● Deploy integration software like ConnectKey apps to help keep track of documents, wherever they are in the workflow.
● Improve printer security to reduce the risk of costly security breaches.
Document Management Solutions
Document management solutions help a company get its paperwork in order – literally. Whether it's finding the right cloud services to store backups or optimizing existing technology, document management solutions help:
● Reduce a company's reliance on printers and physical documents.
● Improve an office's visibility into its document lifecycle.
● Keep critical records secure, backed up, and accessible.
Managed IT Services
Every office needs IT – it's a critical element of doing business in the 21st century. Managed IT services take over the more arduous tasks for building and refining IT infrastructure so that companies have exactly the tools they need to succeed. With managed IT services, companies:
● Can keep their internal IT department focused on higher-value assignments than fixing printer jams.
● Benefit from more powerful technology to manage their workflows and data.
● Enjoy next-generation security overseen by experienced professionals.
Keep Workflows Excellent With XMC
No matter the industry, modern businesses spend a great deal of time and energy refining their workflows for maximum efficiency. However, offices still fall prey to a few common causes of downtime which can cause production to grind to a halt. However, through the help of a skillful and experienced managed service provider, such as XMC, these common stumbling blocks are easily avoided. Enjoy better technology, stronger workflows, and enhanced productivity across the board.
XMC helps companies refine their productivity ecosystems. Contact us today to discuss what operational efficiency looks like in your office.