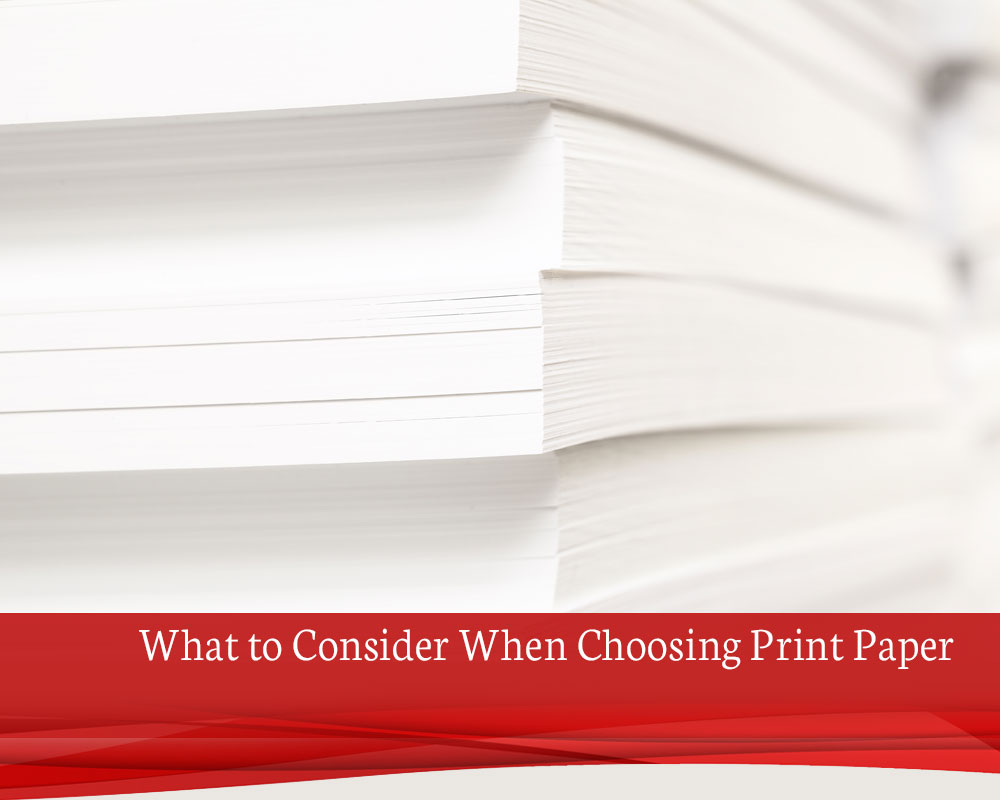 Not all paper is equal, especially when it comes to printers. From matte to cardstock to paper designed specifically for laser printers, choosing the right print paper can have a dramatic effect on the final quality of a printed piece. Paper matters – in fact, many common print quality problems can be solved simply by switching the type of paper used.
Never given thought to paper beyond the ubiquitous computer paper? Before reaching for the most readily available paper type during the next print job, consider diving into the wonderful world of printer paper. It will make a difference.
The Effects of Paper on Printing
Paper has many different effects on printing. Thoughtfully choosing a paper type for a print job can amplify the impression that a document makes. Paper may affect:
● The appearance of colors.
● The quality of photos.
● The overall formality or tone of the document.
● The visual appeal of the entire piece.
Many people select a paper for aesthetics as much as they do functionality. Paper choice is an excellent way to make a statement beyond what the words themselves say.
When the Wrong Paper Is Used: Common Problems
Using the wrong paper can cause problems beyond a print job not looking its greatest. These problems range in severity, from minor cosmetic annoyances to problems which can lead to expensive repairs. Some of the most common problems associated with the wrong paper type include:
● Paper jams. Paper that is too thick, too thin, or too slippery – such as glossy paper – may cause paper jams because the printer is unable to move it through the machinery properly.
● Toner doesn't fuse. Laser printers rely on heat to fuse the toner to the paper. If a piece of paper comes out of a printer and the toner rubs off, it means a type of paper is being used, which isn't meant for laser printers.
● Colors run. If colors are running or bleeding, it's a sign that the paper doesn't do well with ink – in other words, is designed for laser printers. This is different from a color leak, where colors which aren't used in the job are appearing on the page.
● Splotchy printing. Color differences and splotches are usually a sign of a paper with bad formation or uniformity. This is a sign of low-quality paper.
● Colors are different. While many different things could cause printed colors to look different, such as color spaces or monitor settings, the paper might also be to blame.
Most Widely Used Papers
The right paper goes a long way to ensuring that a final printed piece looks good. Many, many different types of paper exist on the market, and it can prove challenging to figure out what the best paper is for the job. Here's a quick rundown of the most widely used print and copy paper:
● Bright White. Paper labeled "bright white" is smooth and untextured. It's ideal for professional documents which need a crisp presentation. Likewise, the brightness helps prevent the ink from showing through the other side, making it ideal for double-sided printing.
● Card Stock. Card stock is thick, sturdy paper commonly used for business cards, marketing materials, and things which will see heavy handling. The thickness allows it to absorb ink without becoming crumpled or soggy, making it also great for photographs.
● Glossy. Glossy paper produces high clarity images, brilliant colors, and sharp lines. Choose a glossy paper to give photographs an extra level of aesthetic appeal.
● Inkjet Printer Paper. Specifically designed to withstand inkjet printers, this paper comes in a variety of weights and styles.
● Laser Printer Paper. Less of a specific paper and more of a paper type, laser printer paper is notably heat resistant to withstand passing through the fusing roll.
● Matte. The average, everyday computer paper is usually matte. Most matte papers come with a coating to help the ink dry quickly.
● Photo Paper. Similar to glossy paper, photo paper has the same coating, which lends clear, bright colors. However, many types of photo paper are quick-dry and available in different weights.
Is Expensive Always Better?
Not necessarily. The "best" copy or print paper depends on the printer and the print job. In general, it's better to choose a cheaper option which is fully compatible with a printer than choose a more expensive specialty paper which will lead to smudges, bleeding ink, or paper jams.
XMC Helps Companies Pick Print Paper
Finding the best print paper for a job depends on the printer, the type of job, and the type of overall aesthetic desired. For many companies, everyday matte paper is perfectly acceptable for office printing. However, when that special touch is needed, there exists a whole realm of options to make an impactful presentation. A managed print service provider, such as XMC, can guide companies towards the best selections for print paper that make a flawless impression.
Start a conversation with a specialist at XMC to discover the best print paper for your devices.