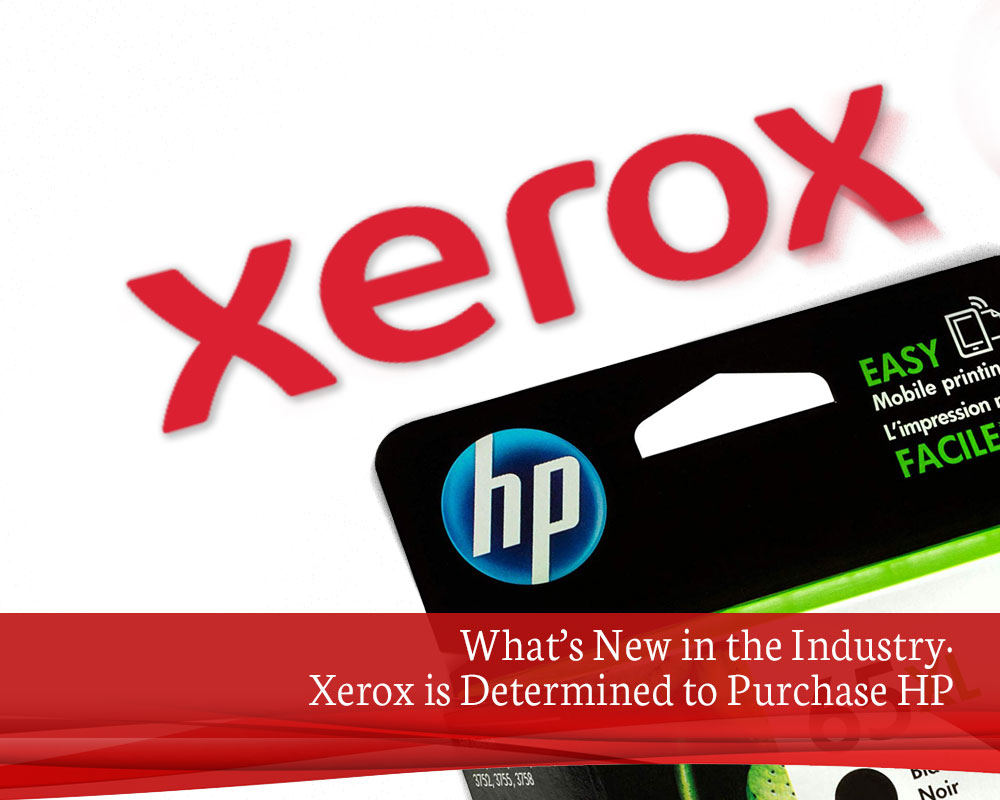 Xerox and HP have both established themselves as prominent technology companies – Xerox with a well-deserved reputation as a leader in printing and copying hardware, and HP, a strong market presence in home printers and computers since the 1980s.
Xerox has publicly proposed to acquire HP, even going as far as approaching HP shareholders in hopes of acquiring HP. This may seem like an unlikely proposal, especially since Xerox's value is estimated at $8 billion, while HP's value weighs in closer to $27.3 billion.
Nonetheless, Xerox has secured a preliminary financial commitment from Citigroup to back the transaction. HP and some industry experts view the efforts from Xerox as a hostile takeover, with HP's board believing the purchase is a bad idea – at least from HP's perspective.
Why Is Xerox Determined to Purchase HP?
Xerox leadership has several reasons that they present publicly for pursuing the HP purchase:
● Company officials believe that the combined companies could realize significant savings – estimated at $2 billion annually. Much of these savings would likely come from staff reductions by eliminating redundant departments or positions. Other savings could be generated by reducing real estate requirements, efficiencies from consolidated operations, and the number of suppliers.
● Joint expertise in enterprise printing from Xerox combined with HP's home computer and printer business could benefit both companies.
● Xerox has a primary interest in HP's printing market, given its popularity in home inkjet and laser printers.
Xerox presented their rationale for the acquisition to HP shareholders in November:
● $1.5 billion in projected revenue growth
● Value of $31 per share for HP investors
● $4 billion in cash flow
Xerox's proposal to HP investors paints a positive financial picture with their 3-year plan that generates:
● $540 to $750 million from cross-selling to the two companies' customer base
● $50 to $100 million from combined distribution and manufacturing efficiencies
● $350 to $400 million through the synthesis of HP products into Xerox existing service offerings
How Does HP Feel About the Purchase?
HP is already experiencing a somewhat stagnant market in their printer business, with companies increasingly moving toward reducing their use of paper documents. They have even proposed a reduction in their workforce by the end of fiscal 2022, perhaps by as much as 16%.
Still, HP views the acquisition as a hostile takeover and, therefore, not in their best interest. HP's CEO, Enrique Lores, has a long-term strategy to focus on the 3D printing market, becoming a leader in this young technology. This strategy would realize no benefit from being acquired by Xerox.
Moreover, HP's board unanimously rejected the latest offer from Xerox of $22 per share, at least temporarily halting the transaction, estimated at nearly $34 billion. Their response clearly expressed that the offer undervalues the company, and that HP is not looking to sell.
HP's rejection letter to Xerox even maintained concerns with Xerox's financial stability, stating, "there are significant concerns about both the near-term health and long-term viability of your business that have a significant impact on Xerox's value."
What Do Financial Experts Think?
Carl Icahn, an investor with considerable financial interests in both companies, has called the transaction a practical no brainer, amounting to "little more than rearranging the deck chairs on the Titanic." Interestingly, Icahn Capital is the largest shareholder of Xerox, holding nearly 11% of the company's stock. In addition, Icahn is also HP's fifth-largest shareholder. This has raised eyebrows – to the point of a lawsuit – by a fund that believes that Icahn's HP purchase breached fiduciary duties.
HP's market in printers and the company's profits from ink cartridges have considerably reduced in recent years as after-market cartridges have eaten into profits, and companies reduce their reliance on paper-driven business systems. That said, with the partial commonality of the customer base between HP and Xerox, the purchase could result in increased combined profitability.
Some analysts suggest the tables may turn, with HP pursuing the hunter, purchasing Xerox. Jim Cramer, host of CNBC's "Mad Money", believes that while on the surface the purchase may make business sense, it would be more likely for HP to buy Xerox based on the values of the two companies.
What the Purchase Means to Businesses, Shareholders, and Employees
What the future holds is anyone's guess, but the rejection of the current offer at least holds promise for a counteroffer or additional negotiations between HP and Xerox.
Investors could benefit from the increased value in the combined company, with new opportunities presented to cross-sell and market to customers from both businesses.
XMC offers businesses of all sizes and markets advantages in productivity and cost savings with leading-edge technology. Contact us at XMC today to discuss how our office solutions can optimize your business's workflow.