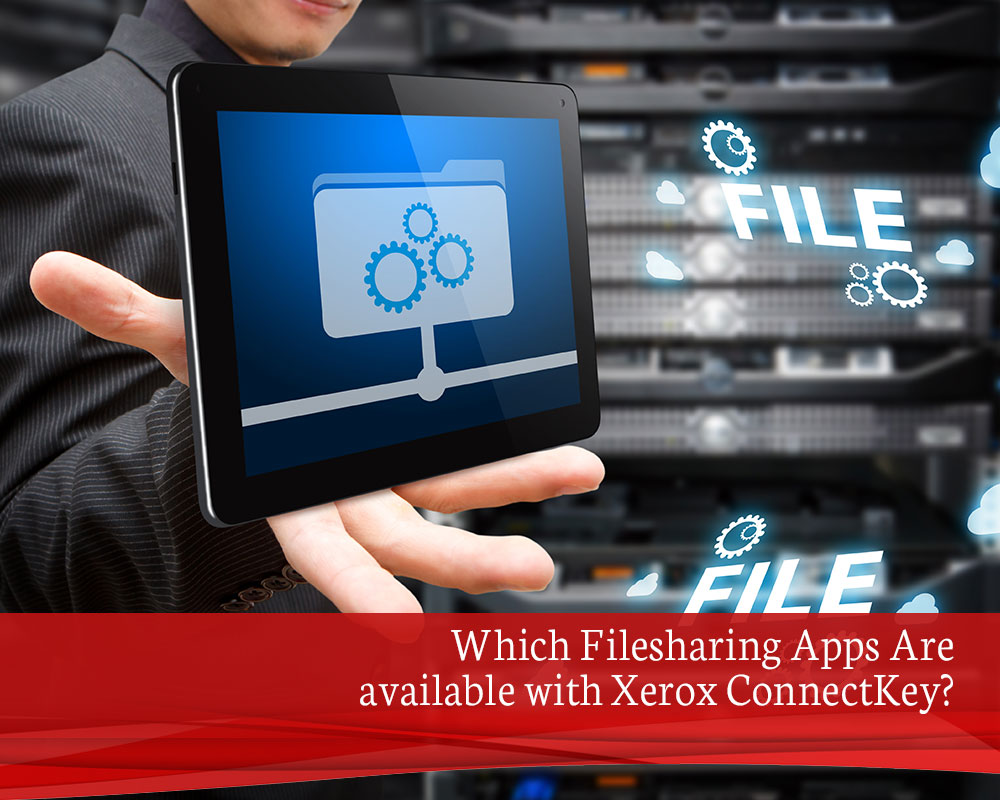 Multifunction printers are so commonplace in modern offices that it's become easy to take their services for granted. Everyone knows what they are. Everyone knows they're essential, too.
But not everyone understands just how much a multifunction printer can improve an office's productivity, at least when it's outfitted with the right technology. Xerox ConnectKey transforms multifunction printers into machines capable of supporting greater productivity than ever before.
What Is Xerox ConnectKey?
When Xerox introduced ConnectKey in 2017, they promised a brand-new type of office tool, one unlike any other companies were currently using. They have not disappointed.
Xerox ConnectKey turns normal multifunction printers into major sources of increased productivity. This platform is accessible through a tablet-like interface that allows users to transform physical documents to digital, securely print offline, even choose which of 40+ languages they want their document translated into, and so much more.
One of the many things to love about Xerox ConnectKey is that it can seamlessly integrate with the most popular filesharing apps on the market. This means you'll have access to all of your company's most important documents – even the password protected ones – right from the ConnectKey interface.
With Xerox ConnectKey mobile link app, you can even access these documents from your company's filesharing platform and print them without even being in the same room as the machine.
5 ConnectKey Filesharing Apps Available to Your Business
Investing in Xerox ConnectKey means being able to access a number of powerful apps, including those for SalesForce, QuickBooks, and many others.
This also includes a number of ConnectKey cloud storage apps that will give your staff instant access right from your multifunction printers. Five of the best options are listed below.
While they each offer their own unique benefits, they all support the following formats:
· Apache OpenOffice
· EML
· GIF
· JPEG
· Microsoft Office
· PCL
· PDF
· PNG
· PS
· RTF
· TIFF
· TXT
· XPS
They also support these output file formats for scanning:
1. Box
The Connect for Box app seamlessly syncs with the very popular cloud storage service.
Box offers a variety of features designed to support collaboration, content management and automation, mobility, security, integration, and even UI kits and content APIs.
Furthermore, while Box offers up to 1,000 GBs of storage space for personal accounts, business packages are completely unlimited.
2. Dropbox
Another very popular cloud storage option that ConnectKey can sync with is Dropbox. With the ConnectKey cloud storage Dropbox app, your company will have access to personal and business accounts with just a few taps from the tablet interface.
This incredibly user-friendly storage app offers all kinds of potential. For example, sales teams that use Dropbox see an increase in productivity of up to 6%. Companies even save 2,722 hours every year through better collaborations with customers, employees, and vendors.
3. Google Drive
Just about every company uses Google Drive these days. Often, it's simply because their clients require it for collaboration. With 15 GBs of free storage space just for signing up, it's easy to see why (much more is available through an upgrade to Google One).
Fortunately, Google Drive also has a ConnectKey cloud storage app that makes it easy to access these shared documents right from a multifunction printer. Of course, Google Drive supports accessibility to other popular apps, as well. These include Google Forms, Drawings, WeVideo, and many others.
4. Microsoft Office 365
With well over a billion Microsoft Office users, there's a good chance your company – and many of its clients – also depends on this popular software every single day.
That's why it's yet another of the ConnectKey filesharing apps you can click to right from your multifunction printer when you leverage this powerful technology.
With the Microsoft Office 365 app, users are able to access powerful tools such as:
Excel
Microsoft Teams
OneNote
Outlook
PowerPoint
SharePoint
Word
Yammer
That's only a partial list, of course. And, with an Office 365 subscription, these tools will always be kept up-to-date for you.
5. OneDrive
Finally, the list of ConnectKey filesharing apps includes one more very popular Microsoft offering: OneDrive.
This is another cloud platform that offers 15 GBs of storage for free. It's also become renowned for how easy it makes it to organize photos, videos, and documents easily. And, it's made searching for them by type extremely simple, too. By integrating this platform with ConnectKey, all of this can be done from the tablet interface - followed by immediate printing, if needed.
Start Taking Advantage of These ConnectKey Filesharing Apps
The potential benefits of introducing Xerox ConnectKey to your company's office are nearly endless. However, one of the most promising advantages is its impressive offering of ConnectKey filesharing apps.
If you'd like to see increased productivity and even better returns from your staff, consider investing in this promising tool. Contact us today to learn more about all the other ways ConnectKey will help.