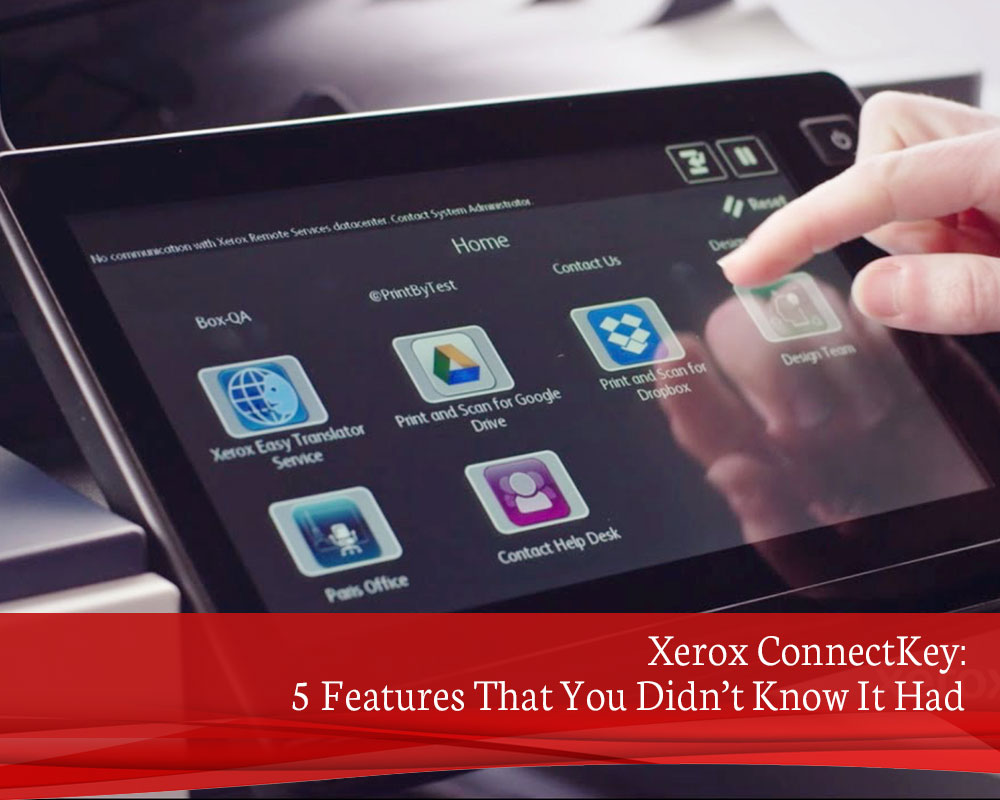 It goes without saying that every modern office requires at least one printer or copier. Ideally, it should be a multifunction printer, too. This ensures that office workers enjoy the full benefits of multiple devices from just one machine.
And yet, even the most cutting-edge multifunction printers can leave modern employees wanting. Many are actually quite difficult to operate. Most simply can't keep up with the ever-advancing technology that workers have right at their desks or even on their phones.
That's why Xerox introduced ConnectKey in 2017. This one tool not only multiplies the potential of multifunction printers, but by doing so, ensures that companies can expect much more from their teams, as well.
What Is Xerox ConnectKey?
Xerox ConnectKey was designed to turn your office's multifunction printer into a powerful workplace assistant, one that simplifies your essential workflows, facilitates greater collaboration, and ensures your office is able to meet its potential for productivity.
Best of all, Xerox developed this product with accessibility in mind. That's why it has a user-friendly tablet interface. No more struggling to see the readout on a small interface or pushing arrows to go back and forth between different screens. If you can use a tablet, you can easily use Xerox ConnectKey.
Fortunately, it's equally easy to install and get started with this incredible tool. Its plug-and-play installation means you'll be up and running with Xerox ConnectKey in seconds.
In short, this award-winning technology is transforming one of the oldest office machines into one of the most powerful.
5 Impressive Xerox ConnectKey Features
There's a lot to love about Xerox ConnectKey that even many of its most ardent fans don't necessarily realize.
While all of the points we just highlighted are reason enough to give ConnectKey a try, here are five more that are especially impressive.
1. QuickBooks Integration
For decades now, companies of all sizes – including entrepreneurs – have relied on QuickBooks for their many accounting needs.
So, it should come as no surprise that QuickBooks is among the many ConnectKey apps that can be found among many others featured in the Xerox app studio.
The QuickBooks integration is the perfect solution for any business that regularly needs to process receipts – whether to store them digitally or send copies to third parties.
2. SalesForce Integration
Another of the many available ConnectKey apps that will excite most businessowners is SalesForce.
While the CRM is already renowned for how powerful it is, having it connected right to your multifunction printer would mean a massive reduction in the data you need to manually enter into SalesForce on a daily basis.
It would also mean printing documents from within SalesForce would just be a matter of tapping your way to them through ConnectKey's tablet interface.
3. Cloud Storage
All of the many ConnectKey features you have to look forward to can be synced with the cloud, as well. So, right from your multifunction printer, you can easily scan a document and send it right to your secure cloud.
Of course, it works in reverse, too. Pull any document from the cloud that you want, hit print, and you'll have it without ever having to return back to your desk.
4. Translation
Imagine a scenario where you're about to use that Xerox cloud print feature only to remember that the document is in English but the client who needs it speaks Spanish.
Now, what do you do?
Well, if you're using Xerox ConnectKey, you just make use of its incredible translation feature, so the document comes out in Spanish like your client prefers.
With more than 40 languages available, it's never been easier to print documents that are accessible to everyone.
5. Mobile Solutions
Chances are that your company's success depends greatly on mobile-friendly devices. After all, more people now use mobile devices to go online than desktop computers and laptops.
Nonetheless, even companies that strive to make the most out of mobile-friendly devices have had to accept that printers present a problem.
Well, not any more.
Xerox ConnectKey is actually compatible with both iOS and Android devices. Employees can send documents to printers from their phones or just as easily bring up documents on their mobile devices that were recently scanned by a ConnectKey-enabled multifunction printer.
Harness the Power of Xerox ConnectKey Today
Would you like to get much more from your company's multifunction printers? Would you enjoy peace of mind knowing that those printers will continue evolving as time goes on? Are you excited about what your staff could potentially do with Xerox ConnectKey bolstering every one of your company's multifunction printers?
If so, we would love to hear from you. Our staff would be happy to answer any questions you may have and tell you about even more great ConnectKey features you have to look forward to. Contact us today to learn all about its full potential.