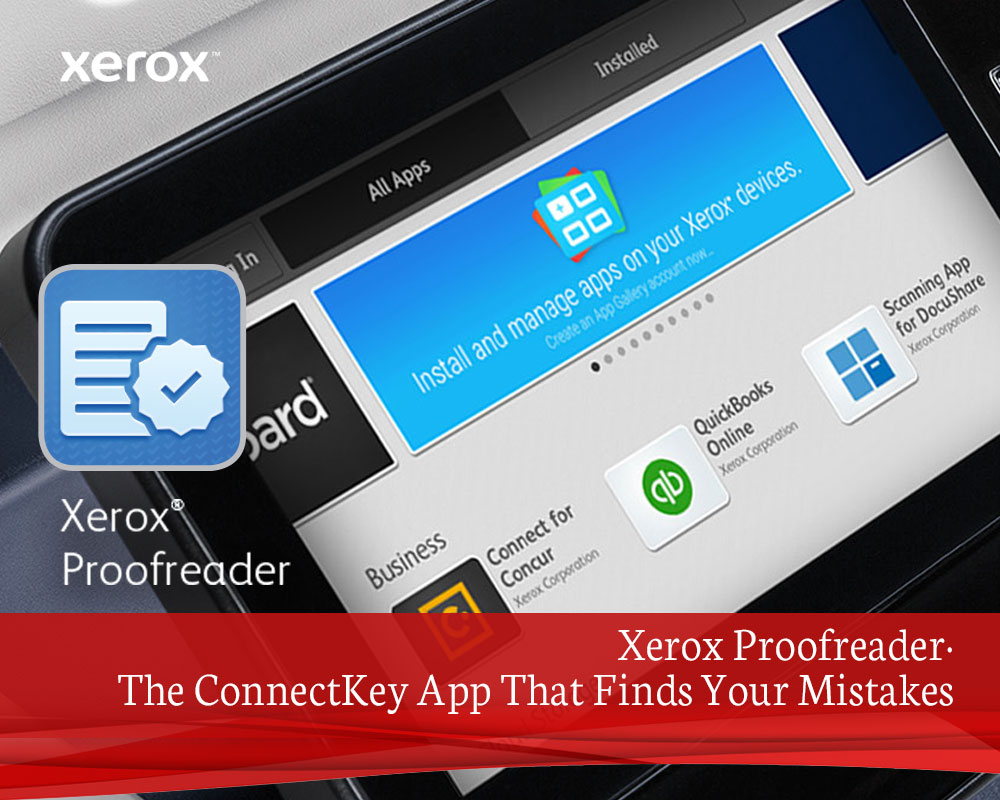 Education today faces many unique challenges. With technology advancing at an ever faster pace, schools and universities alike are struggling to keep up. Keeping up with technology is something that every school owes to its students to give them the best education possible. Here's what educators need to know about Xerox Proofreader, the ConnectKey app that is has revolutionized the use of multifunction printers in education.
What Is Xerox ConnectKey and How Can it Help Schools?
Xerox ConnectKey is a unique and powerful app software suite that accompanies Xerox multifunction printers. The app software features an app gallery that covers all verticals and sports a plethora of impressive apps.
Schools looking to keep up with technology will find Xerox ConnectKey a must have. Students can't be expected to stay ahead if their schools aren't doing the same. Teaching is a serious responsibility as students represent the future of the workforce. Falling behind is not an option.
Among these apps is Xerox Proofreader, the premier app for schools and academic use.
The Benefits of a Xerox Multifunction Printer
Powerful software applications aside, having a multifunction printer from Xerox is a key advantage for schools. The quality of these printers means that an investment in Xerox is one that will last. Printers that break down after a few months of use are costly wastes of money that school needs to avoid. Having the security of the Xerox name means having a printer that can be relied upon, one that will serve many years without fail.
Features and Applications of the Proofreader App
The Proofreader app makes it possible for students and teachers alike to check reports for grammar and also for plagiarism. A PDF report of the suggested corrections can be printed or emailed for the user's convenience. Feedback is instant, making the Proofreader app perfect for today's fast-paced academic environment. The ability to quickly check documents for school reports and the like helps students excel.
The labor market is fiercely competitive, and preparation to enter the workforce starts at school. Having the advantage of apps like Xerox Proofreader are essential to succeeding and maximizing efficiency in today's fast-paced environment.
Content can either be scanned or uploaded and edits can be made as users can enter text via the portal. Documents can be submitted, emailed, or printed at leisure.
XMC for Education
XMC, the premier vendor for Xerox products like MFPs, ConnectKey, and the Proofreader app offers other benefits to educators as well. Their document solutions are unparalleled and can help schools bring the best in technology to their students.
Mobile Printing
It's time for schools to get on board with mobile printing and take advantage of this amazing technology. The ability to start and manage print jobs from a mobile device makes it easier for teachers to manage their printing needs and focus on teaching.
The same technology is a great advantage for students. Being able to manage print jobs while on the go is a boon for teachers and students alike.
Accounting Tools
Accounting departments in large and growing schools and universities have a tough job and are often overstressed. Aided by RFID and automated processes, schools can empower their accountants with the tools they need to effortlessly create error-free reports, with XMC.
PaperCut
PaperCut is a powerhouse of resource management that makes it possible for schools to track the use of their printers. Managing print accounts makes it incredibly easy to control costs as administrators can designate both print limits and credits to users.
Master Linguistics with Easy Translate
Foreign language learning is more important to teach than ever before in today's global environment. To make languages easier to teach in schools, Easy Translate can translate documents in different languages. The ability to translate documents so easily gives teachers more time to teach and spend time focusing on student experiences.
Managed Print Services
Managed print services can be a fantastic benefit for schools. These services can help drive down costs and increase the efficiency of school print environments. Make print supply ordering a cinch with XMC.
Take Education to the Next Level, an MFP from XMC with Xerox Proofreader
When shopping for a Xerox printer, not all vendors will offer the same experience. Some price gouge while others deliver horrible customer service. Schools can't afford to lose money on a bad deal. That's why they should seek out trusted Xerox vendors that can offer competitive pricing.
Start enjoying the power of Xerox ConnectKey and the Proofreader app, get in touch with XMC today.