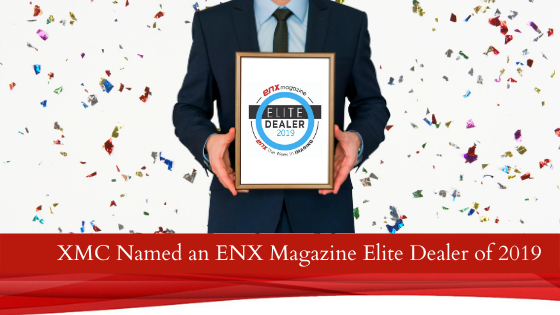 XMC is proud to be named to the list of ENX Elite Dealers for a second year in a row! So what does that mean for XMC? If you aren't familiar with ENX, they are a leading voice in office technology and as such this award is an honor that dealers work to achieve all year.
Sean Seward, president of XMC, shared his thoughts on this award - "It is an honor to be recognized with other outstanding dealers by a true industry standard- ENX Magazine. While we strive to be elite for our customers and employees every day, this is an exciting recognition of our growth and accomplishments in 2019."
Learn more about ENX and what made XMC stand out in 2019 below...
ENX Elite Dealers Awards
ENX Magazine selected this year's winners based on several criteria, including marketing prowess, digital transformation, leadership, work environment, technology, customer service and charitable endeavors.
"In our eyes, an Elite Dealer makes a concerted effort to produce a winning experience for not just its clients, but its employees and vendors as well," said Susan Neimes, managing editor of ENX Magazine and ENX The Week In Imaging. "A defined corporate culture and a willingness to embrace new technologies—and share them with their customer base—also goes a long way. There's no one ingredient behind an Elite Dealer—it's a confluence of many factors that lifts these performers above the rest."
About ENX Magazine
ENX Magazine is a monthly publication dedicated to the office technology and document imaging industry since 1994. Now in its 26th year, ENX Magazine continues to deliver exclusive editorial coverage on market opportunities and issues, news and trends, company profiles, new products, and industry insights. With a monthly circulation of more than 27,000 hard copies, ENX Magazine serves as a leading integrated resource that brings together industry people, products, and business concepts and strategies for office technology industry professionals.
The magazine also publishes ENX The Week In Imaging, a weekly e-newsletter that provides news, profiles, technology and business updates, along with blogs from some of the industry's most prominent players.
Sean Seward, president of XMC, shared his thoughts on this award - "It is always an honor to be honored by an industry establishment like ENX Magazine. While we strive to be elite for our customers and employees every day, this is a great endorsement of what we are doing at XMC."
Here's why XMC was chosen this year:
XMC Company Profile
Year Founded: 1991
President/Owner: Sean Seward
Fastest-Growing Business Segments: Production, Managed IT (300%), MPS (40%)
Biggest Accomplishment of the Past Year: XMC won a highly contested partnership with a local sports team that allowed the dealer to leverage its technology and showcase its community impact.
Why ENX Considers XMC Elite
Marketing Strategy: A website refresh stresses XMC's role as a solutions provider and trusted advisor to clients. The dealer also implemented the HubSpot Marketing Platform to streamline its digital footprint and communications, which touch customers and prospects with content specific to their roles and industries while streamlining its processes for social media, blog development and email communications.
Production Prowess: Backed by Xerox's Iridesse production press, XMC has done numerous installations through the first six months of 2019 and anticipates further growth.
Higher Visibility: XMC has increased its footprint in the communities it serves through vehicles such as sponsoring local athletic programs and continuing to increase their involvement with local nonprofits and community programs.
Corporate Caring: During the last four years, XMC has partnered with Make-A-Wish Mid-South, which grants wishes to children with life-threatening illnesses. XMC was also a flagship participant in "Real Men Wear Pink" through the National Cancer Society. Company Founder Bob Hamilton raised more than $17,000 as he placed in the top 30 nationally in 2018. XMC also lead a successful drive for supplies for local animal shelters across their territories this sprint and provided winter coats for children in need at local schools in areas throughout the southeast.