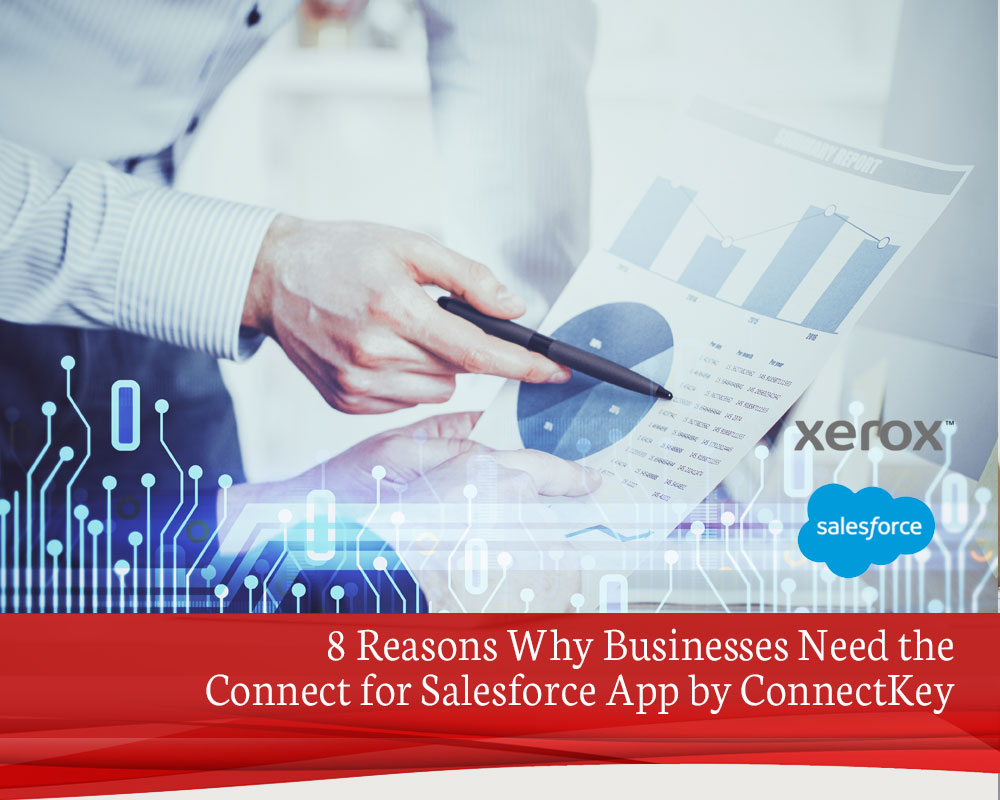 Using Salesforce? The world's most popular customer relationship management (CRM) software has over 150,000 customers around the world. Whether a startup or an established enterprise, Salesforce is an invaluable asset to any company that wants to keep track of its marketing and sales in one convenient location. Salesforce offers many powerful tools which can propel a business to success. However, to truly get the most out of this platform, many businesses leverage ConnectKey's Connect for Salesforce app to increase the software's integration with its other operational processes.
8 Advantages of Connect for Salesforce by ConnectKey
Connect for Salesforce is a powerful tool which integrates Salesforce with all VersaLink and AltaLink multifunction printers. It's readily available to any user or device with access to the ConnectKey App Gallery. Read on to learn why businesses love Connect for Salesforce, and the many advantages it brings to an office.
1. Reduced Manual Entry.
Connect for Salesforce reduces the amount of manual entry needed when it comes to entering documents or information into Salesforce. The app utilizes the same optical recognition technology found across ConnectKey technology to rapidly identify, collate, and organize documents. Users enjoy faster data entry with fewer errors, and less time spent on rote, time-consuming tasks.
2. Digitization of Important Documents.
Many firms, such as those in the financial and legal industries, are required by law to handle physical documents. Tools such as Connect for Salesforce help these companies bridge the physical and digital divide in order to remain competitive in the modern business world. Likewise, this unique feature makes the digitization of important documents more critical than ever to protect business continuity. Connect for Salesforce makes this digitization a breeze to support both operations and recovery.
3. Keep Marketing Data Accessible.
In a world where data-driven decision making is the primary standard by which a company's success is measured, the ability to perform competitively often comes down to who has the fastest access to the necessary information. Connect for Salesforce keeps important marketing and customer information at users' fingertips so they can respond promptly as new situations arise.
4. Everything in One Place.
Salesforce is a comprehensive platform for managing sales, marketing, and customer information. The Connect app software supports this centralization to improve the organization and efficiency of business operations. Say goodbye to discrete databases and confusing copies of contracts or invoices. With Salesforce and Connect, every employee is on the same page across the organization.
5. Searchable Documents.
It's time-consuming to have to read every document in full or look for a specific piece of information based on file names or other details. In such cases, it's also easy to miss important details. However, Connect for Salesforce makes documents searchable so users can find exactly what they're looking for – when they need it. Spend less time searching and more time developing relationships with customers which produce long-term prosperity.
6. Simple Navigation.
Powerful doesn't need to mean complicated – with Connect for Salesforce, it doesn't. The app puts directly in front of users the document processes most appropriate to the task at hand. With a centralized login right at the MFP, users take advantage of an intuitive, easy-to-use interface to navigate folders and swiftly locate documents by searching keywords. The simplified navigation means a lower learning curve, letting users spend less time fiddling and more time focusing on business.
7. Improved Security.
Connect for Salesforce takes advantage of ConnectKey's robust security protocols that are based on Xerox's unique approach to security. The holistic, four-point approach ensures that only authorized people, programs, and devices access the many sensitive pieces of information typically stored in Salesforce. Likewise, this security extends to any app or device associated with ConnectKey. Users can upload, access, transmit, and work with documents securely with ease.
8. Better Integration.
The modern business is all about efficiency and streamlining processes. Connect for Salesforce supports increased efficiency through better integration with other business processes through the ConnectKey environment. Enjoy the ability to move data and documents between apps seamlessly while keeping all information updated in one central location.
Inspire Productivity with Salesforce and ConnectKey
Many businesses are already using Salesforce – it's the most popular CRM software on the market today. Likewise, companies using Xerox multifunction printers can take advantage of the powerful tools in the ConnectKey App Gallery. Tools such as Connect for Salesforce inspire increased integration to drive productivity within a company. Using Salesforce and an AltaLink or VersaLink printer? Consider unleashing new levels of productivity with Connect for Salesforce.
XMC is a leading office technology solutions company serving businesses in Tennessee, Arkansas, and Alabama. To learn more about Connect for Salesforce, or other strategies to improve office productivity, start a conversation with a document management strategist today.