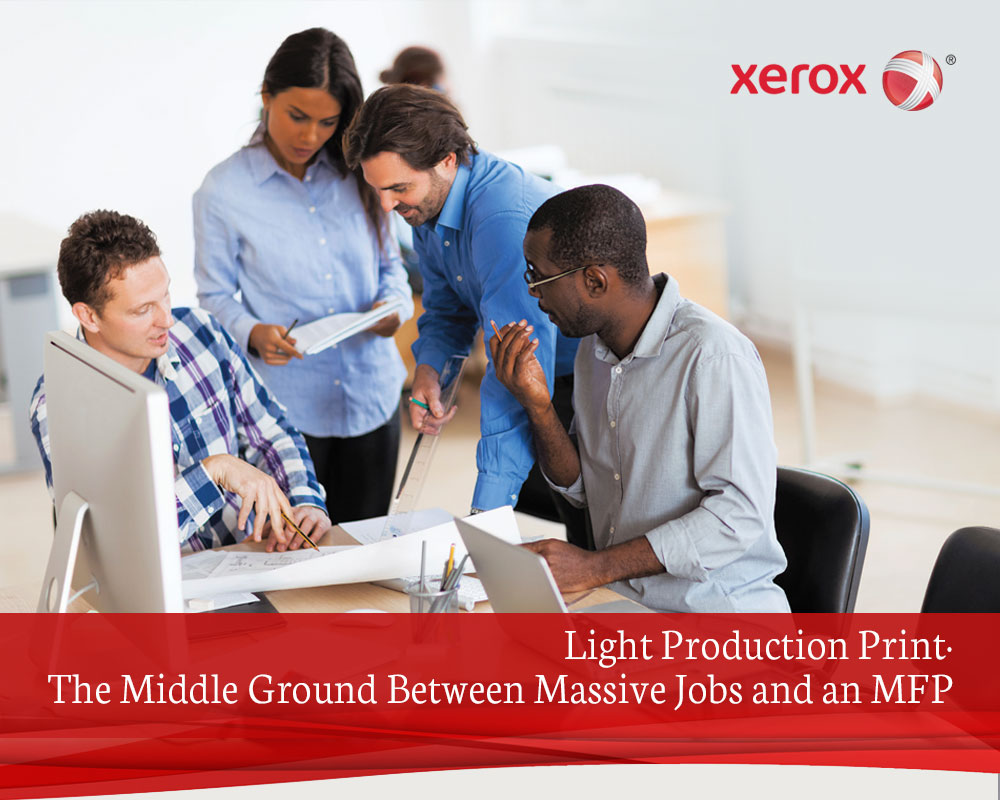 When it comes to an office, finding the right devices can make or break a print environment. However, print jobs often display an enormous amount of variability. From large batches of invoice to customized one-offs, it can be difficult to choose a device which adeptly handles both. When considering their options, many businesses weigh the pros and cons of choosing between an all-purpose multifunction printer, or something more powerful such as production print. Yet, neither might seem quite right.
Businesses with demanding printing needs must have access to the capabilities of production print with the flexibility and cost-effectiveness of a multifunction printer. Light production printers offer a middle ground between these devices and often prove a viable solution to this unique mixture of needs.
Key Challenges of a Demanding Print Environment
Businesses with demanding print environments face unique challenges which emphasize the importance of having the correct device. In particular, three key challenges often seen include:
1. Cost-Effectiveness
Printing represents one of the biggest expenses that a business has – keeping its costs under control goes a long way to maintaining the company's budget. As a result, many businesses turn to multifunction devices by default as they are specifically designed with cost-effectiveness and efficiency in mind. Certainly, a well-placed MFP in an office streamlines document workflow and keeps operations running.
At the same time, however, these devices easily struggle with specialized print jobs because their capabilities often preclude the ability to customize settings or individual jobs to a high degree. As such, companies often choose to outsource short run, specialized printing – something which gets expensive when it needs to happen frequently.
2. The Need for High-Impact Visuals
Anyone who has ever tried to print marketing materials on a home office printer or MFP knows that, despite the device's efficiency, the visual impact of the output often falls flat. Whether it is the restriction of monochrome toner or the narrower options for printing surfaces, it is difficult – if not impossible – to achieve high-impact visuals using an MFP.
When it comes to marketing and creative teams, simply printing mockups or final designs on the office MFP leads to lackluster results. Only production print is capable of delivering aesthetically stunning visuals which impress audiences and drive business.
3. The Ability to Customize Print Jobs
Production print is well-known for its ability to leverage sophisticated customization and personalization options. For example, this explains why many companies prefer to outsource print runs of envelopes or other direct marketing to production printers rather than attempt them in-house. While an MFP can handle basic personalization, a production printer takes it to the next level by unlocking more possibilities for how that personalization may occur.
Light Production: The Middle Ground
A multifunction printer may prove inadequate in many demanding print environments. Likewise, production printers often represent a vast leap forward in printing technology which may be more than a company necessarily needs. Likewise, there exists a tremendous price difference between the two classes of printing which further obscures the best choice for a business.
Light production devices are a middle ground between these two options. Such devices marry the space-savings and efficiency of a top-of-the-line MFP to the capabilities of an entry-level production printer. Notably, light production printing delivers a critical advantage over both classes.
Light Production Print Keeps Printing Profitable
Where MFPs are the efficient workhorses of the office and production printers are the heavyweight lifters, light production chooses versatility over specialization in either direction. In other words, an office will enjoy a more robust set of features to eliminate the shortcomings created by MFPs – but minus the hyper-specialized options that often drive up the price of production printers. The result? An office gets exactly the printing power it needs at a price it can afford.
When to Consider Light Production Print Devices
Light production printers are best in offices with demanding but specific printing needs. Consider a light production printer when:
● There's a strong need for high-quality professional proofs and mockups on demand.
● The business is constantly outsourcing short run production print jobs.
● The current print environment cannot adequately handle the needs or desires of the marketing department.
● An office frequently prints customized and personalized materials.
● A production printer is beyond the capabilities or budget of a department, but a multifunction printer isn't enough.
● Copying and scanning functionalities are still desired in a printer.
Inspire Excellence with Light Production Print
Light production printers are ideal for small businesses and individual enterprise departments which frequently need to print high-quality visuals to drive business. Leveraging both the functionality of an MFP and the power of a production printer, light production print is ideal for any business which needs more than an efficiency device but less than the power of a specialized commercial printer. Light production print is the middle ground between versatility and power.
Get the most out of your office print environment with a light production printer. XMC is an authorized Xerox dealer for businesses in Tennessee, Arkansas and Alabama. Contact us today to learn what we can do for you.