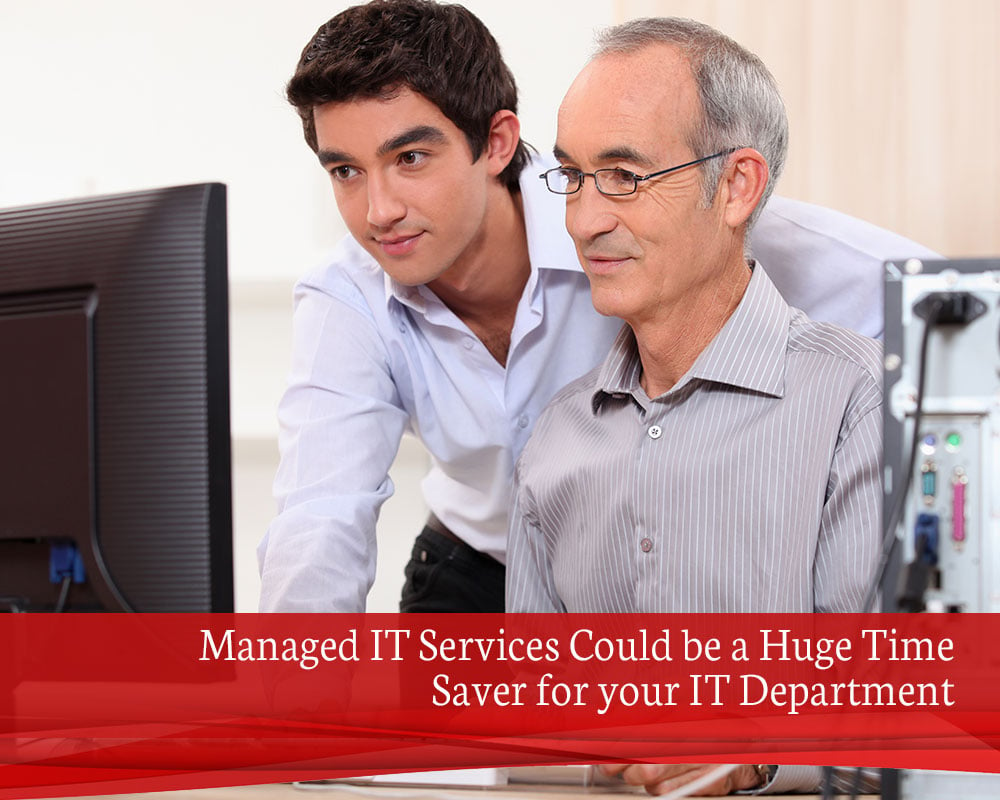 A lot of businesses incorrectly assume that there are only two choices when it comes to managing their IT needs: in-house IT services or managed IT services from a third-party. The truth is that both solutions can be combined to provide a comprehensive and complete IT security solution for businesses of all sizes. With managed IT services, businesses can get the support they need while still having the benefit and convenience of on-site, in-house IT staff.
Best of all, the combination of these two solutions provides the best return on investment for a business' IT budget. Costs are kept low while overall IT security is improved. This article will examine how businesses can combine the benefits of a managed services company with the benefits of in-house IT support for a complete solution.
Pass Off Time-Consuming Tasks
Many internal IT staff simply do not have enough hours in a day to manage all the needs of growing businesses. As a result, they must prioritize the most pressing issues, while other concerns may be put on the backburner. In some cases, less emergent issues might completely be forgotten about.
There are two ways to solve this problem. First, businesses could hire additional IT staff to manage the workload. However, that is easier said than done. America is currently experiencing a labor shortage with tech and IT workers being among the most in-demand employees. Not only is it hard to find these qualified employees but they demand higher salaries than ever before.
The second solution is to offload some time-consuming IT tasks to a managed services company. While in-house IT support deals with more hands-on problems like introducing a new accounting software, a managed IT services provider can handle other tasks that would normally get pushed off to the side or consume all of an employee's time. As a result, in-house staff can be more effective and focus their time on where they can make the most difference for the business.
Adapt to Growing Business Needs
The main goal of any business is to continue growing. Of course, as a business adds new staff and takes on new challenges, its IT security needs can change as well. With managed IT services, a business can count on IT support being there for them as they grow and develop.
With managed IT services, the provider already has staff in place to take care of a wide range of needs. This could include everything from complex IT security needs to basic deployment of devices. For a growing business, it's important to know that lack of IT support will not stand in their way. Instead of hiring new staff at a significant salary or requiring their valued IT professionals to be on call on nights and weekends, businesses can continue to focus on doing what they do best and growing as fast as possible without IT support holding them back.
With this money saved on hiring additional staff, businesses can even further accelerate their growth by reinvesting in the business. The money saved by using managed IT services can be redirected into other areas of need and deliver a much more powerful result for the business.
Give Access to New Tools
One great benefit of using managed IT services is that businesses get access to the powerful tools used by the managed services provider. In many cases, these tools are a cost that many businesses simply cannot fit into their in-house IT budget as much of the budget is dedicated to salary.
By combining in-house IT support with managed IT services, businesses get the benefits of having support in-house as well as the benefits of the powerful tools used by managed services providers. Many of these tools can have an incredible impact on overall IT security and would otherwise be outside of the budget of many businesses.
Access to World Class IT Consulting
What happens with many businesses is that they hire IT consultants to help internal IT staff plan for the future and ensure IT security. These third party consultants simply help create solutions but do not participate in actually implementing solutions. This is left entirely to the in-house IT support.
With managed IT services, providers have consultants on hand to help with planning of major projects in co-operation with internal IT support. Once the planning is done, the managed services provider also have the staff on hand to help with implementation. This is all included with the single cost of retaining the managed IT services rather than additional costs that must be added on from third-party consultants.
Better Service, Lower Cost, Exceptional Results
With managed IT services, businesses can make the most of every dollar. They can allow in-house IT support to do their best work and count on the reliability and expertise of a managed services provider when they need it.
To learn more about managed IT services, contact XMC Inc today.