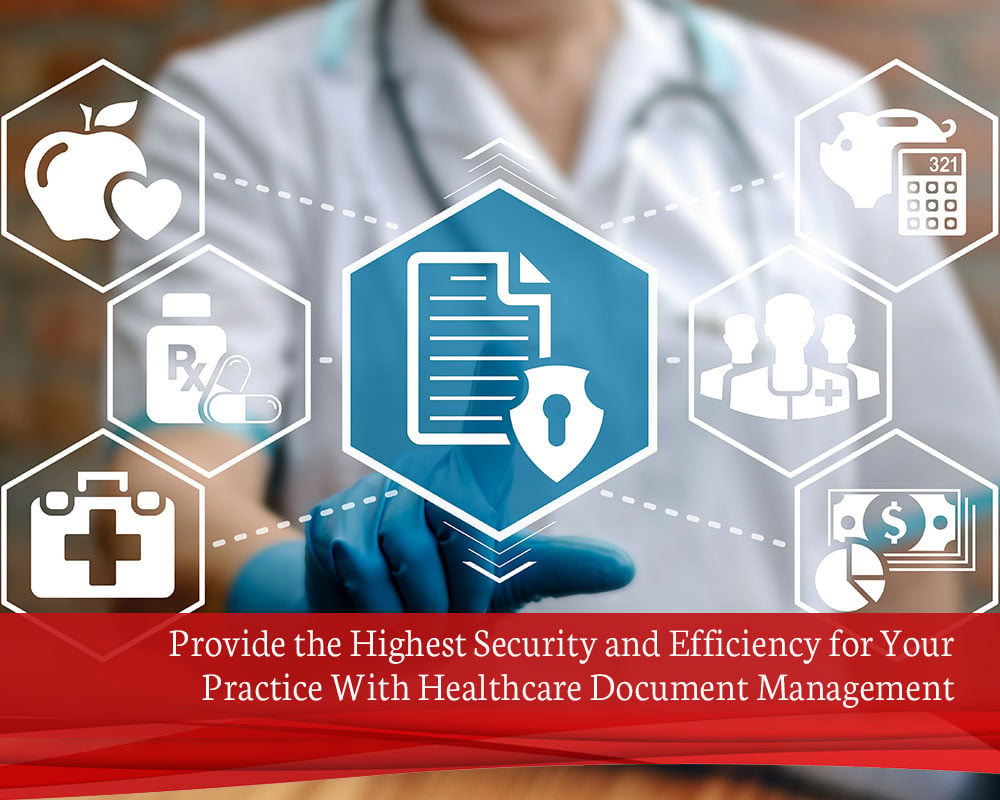 People working in the medical profession have some of the most intensive privacy regulations they must follow when it comes to patient information and data. HIPAA clearly defines the rights of patients and responsibilities of healthcare professionals when it comes to sensitive personal information. Of course, this makes complete sense as a person's medical history is often their most private and sensitive information.
As a result of these rules as well as the expectations of patients, healthcare businesses must pay special attention to how they manage healthcare documents. This article will outline some of the major challenges with document security and how medical offices can overcome them.
The Risk of Paper Healthcare Documents
It's not at all uncommon to see a large filing area in a medical office filled with folders of patient information. In today's modern world, this kind of document storage poses an unnecessary risk for patients and healthcare offices.
Paper files are uniquely prone to theft, loss, and human error like incorrect filing. The result of these events could mean patient information is exposed to an unauthorized party or that medical professionals cannot find the information needed when searching.
Natural disasters like floods, storms and fires are also threat to paper documents that aren't backed up in a digital format.
Moving to paperless storage and document sharing with document management software allows medical offices to secure patient information more effectively while also improving patient care and service. Using document management software, files can be instantly captured and securely stored in a patient's digital file. This also helps lower costs for businesses as paper usage and printing are greatly reduced.
Securing Devices Used to Access Data
There was a time when an office had a few desktop computers and a multifunction printer. The times have changed and the amount of technology found in the average medical office today has exploded. Staff may make use of laptops, tablets, and smartphones to help them do their jobs more efficiently. However, these devices can pose a security risk to patient data.
In the wrong hands, a smartphone could put patient data at risk. As a result, healthcare offices need to ensure that devices are secured so that only authorized users are able to access sensitive information. In addition, patient data should be encrypted to ensure that unauthorized devices are unable to access the data. Management of healthcare documents is more than just about simply storing documents – the data must also be protected from outside access.
Regular Security Monitoring and Updates
Compliance should not be mistaken for security. It's the bare minimum that a business should strive for. Security, on the other hand, is constantly changing and evolving. Cybercriminals have targeted healthcare businesses frequently with tens of thousands of attacks launched every single day. Hackers recognize the importance of this data and, using attacks like ransomware attacks, attempt to secure big payments from healthcare businesses for the safe return of sensitive patient data.
There are two important considerations when it comes to data security for healthcare businesses. First, security must regularly be reviewed and updated. As new threats are identified, proper security measures must be taken. This could be as simple as regular updates and security patches for devices used in the business.
The second important step to take for cybersecurity is data backup and recovery. In the event of data loss, healthcare businesses must be able to recover and get back to work quickly without fear of losing all patient data. This is an incredibly important aspect of healthcare document management.
Secure Communication and Sharing
One big risk posed to patient healthcare information is the sharing that must be done between different medical offices. For example, a family physician may need to share patient data with a specialist for a referral. In some cases, information silos that exist can make sharing this information a challenge and potentially lead to data breaches or accidental sharing of information to unauthorized parties.
With document management software, patient records can be securely shared with other intended parties while still protecting the security of the patient information. Not only does this help businesses remain compliant, but it also greatly improves the quality of care and patient experience.
Time to Take Data Seriously
The main focus that any medical practice should keep in the forefront is the health and welfare of their patient base, leaving the complex and ever-changing world of document security up to the specialists in that area. Technology has made doing business more efficient but it has also introduced risks for medical offices which leaves patients and practices alike to wonder, are businesses keeping up with the trends or falling behind?
To learn more about healthcare document management and security in the modern age of business, please contact XMC Inc today.