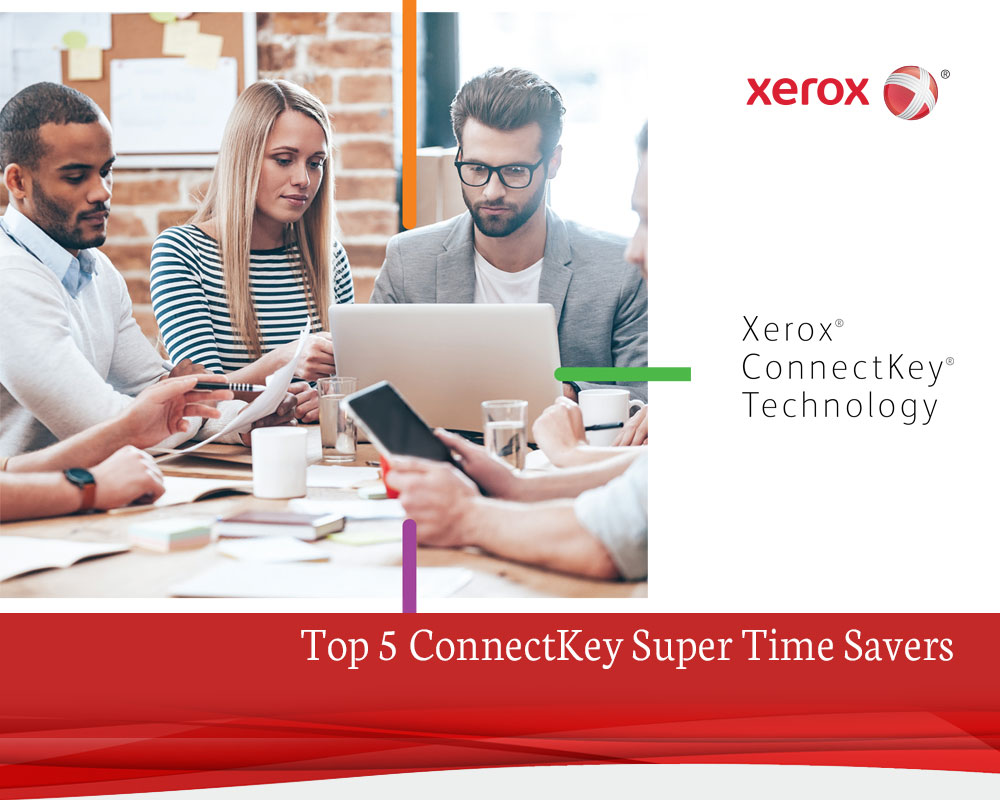 Optimizing a workplace for efficiency means making the most out of every tool within reach. With the average organization leveraging numerous digital devices and services, it may be a struggle to keep everything or everyone on the same page. Fortunately, Xerox developed a solution for offices which use its AltaLink and VersaLink multifunction printers. It's known as ConnectKey, and it's helping businesses integrate their computers and printers to create a seamless document environment.
ConnectKey installs quickly and easily on any WiFi-connected computer or mobile device, creating a new level of productivity and efficiency for a workforce. Users can then download apps from an extensive and ever-growing App Gallery, which further integrate many of the most common cloud or digital tools with the print environment. Here are the top five apps which every office should consider to get the most out of ConnectKey.
The Top 5 Time Savers in ConnectKey
ConnectKey allows offices to save time, money, and effort by making it easier to do more with documents from a single, integrated screen. However, with dozens of apps to choose from, identifying the most strategic combination may take a while. Here are the top five recommendations from the XMC team:
1. The Quick Link App
ConnectKey is designed to make the entire office more connected, and Xerox has plenty of apps to help facilitate exactly that. The Quick Link App makes it possible to immediately connect any Connectkey-enabled device with any printer by scanning a QR code. Users, therefore, enjoy the increased ability to securely connect with the print environment in whatever way they may need.
2. Email Connect
Documents come in all shapes and sizes – both physically and digitally. Likewise, it's commonplace to need to turn a hardcopy document into a digital file for ease of access or use. Email Connect helps bridge the physical-digital divide by allowing users to scan documents to their emails. Email Connect supports over a dozen different email providers and requires only the email's login, and the device's administrative password to work.
3. Scan[1] -to-Cloud Email
Whereas Email Connect enables vetted employees or admin to scan to email, many office environments must also deal with a wider pool of users accessing their printers. Scan-to-Cloud Email provides a secure alternative for guests or users to leverage an MFP's email capabilities without giving them access to a company's sensitive printing network. Likewise, Scan-to-Cloud Email supports a full 19 languages, making it a powerful tool in multilingual or multinational operations.
4. WeTransfer
Need to get a file from one device to another? WeTransfer makes it happen. Scan a file into the computer and upload it to a cloud (for versions with an account) or an email (for versions without an account). WeTransfer can handle files up to 2MB, perfect for large documents or graphic-intense jobs. The app then creates a QR code which mobile users can scan to access their file no matter where they are or what device they're using.
5. Connect for Concur
Many offices use Concur to track their travel and operating expenses, and this powerful cloud-based service can connect directly with a Xerox printer via Connect for Concur. Say goodbye to manual expense entry or filing receipts. With this app, users can scan multiple receipts at once, then send them directly to Concur with a single push of a button. Users get a chance to preview the receipt and adjust settings to improve readability. Concur does all the rest.
Save Time and Energy With ConnectKey. XMC Can Help.
As businesses handle more data and documents faster, the ability to remain organized and efficient becomes more valuable than ever. Xerox ConnectKey is a powerful tool for companies in their quest for an optimized workflow. ConnectKey helps businesses save time and energy by making it easier for documents to move between the many disparate platforms and services the average office uses.
These are just five of the biggest time-savers available in the App Gallery, but there are many others which an organization can leverage for its specific needs. As an authorized Xerox dealer, XMC is an experienced guide in the process to select the best tools and apps for office workflows.
Does your organization make the most out of its print environment using Xerox AltaLink or VersaLink printers? Start a conversation with XMC today to learn how to leverage ConnectKey for increased efficiency and savings.