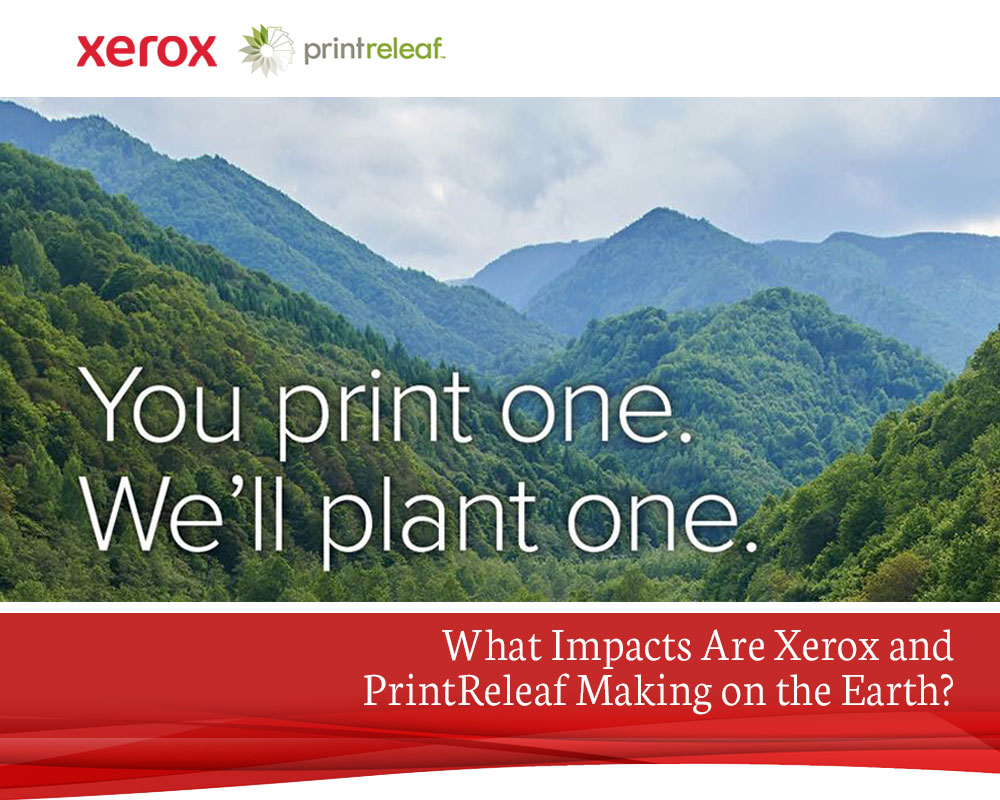 It seems that every day another dismal report about the state of the planet hits the newsreel. From pollution to raging wildfires, it's hard to imagine that anyone is doing anything to impact the future positively. However, for the last five years, one company has been quietly redefining the way offices think about their printing processes. It's called PrintReleaf. With Xerox as its latest partner, it's making an even more tremendous impact on forests around the world.
The Xerox-PrintReleaf partnership offers a new way for offices to join the continued struggle towards a more sustainable planet. Read on to discover what PrintReleaf does, and how this partnership will empower offices everywhere to participate in the ongoing challenge of combatting global deforestation.
Who Is PrintReleaf?
PrintReleaf got its start in 2011 as a software platform that tracks and offsets an office's paper usage. The first of its kind, it measures a company's paper usage over time, then calculates the forest impact of that usage. That footprint is then automatically reforested at the planting site of a company's choice. Every 8,333 letter pages result in one standard tree planted.
To date, PrintReleaf has offset some 12,173,586,700 pages. It's helped to plant just over 1.4 million trees in seven different locations across North America, South America, Europe, Africa, and Asia – or about 2,600 trees per day.
Office Printing Sustainability Standards
PrintReleaf was among one of the first organizations to offer a printing sustainability standard for companies. Designed through a collaboration of leading print and forestry experts, it guides companies to adopt more responsible printing and sustainable printing supplies.
PrintReleaf offers both reforestation certifications and chain of custody certifications. Companies have the option to participate in one or both. The reforestation certification guarantees that all paper usage is reforested back into the natural environment. The chain of custody certification goes a step further, requiring companies to submit to printing sustainability audits and use paper that comes from a sustainable, well-managed source.
Global Reforestation Projects
There are currently seven reforestation projects funded by PrintReleaf around the world. They are located in Brazil, the Dominican Republic, India, Ireland, Madagascar, Mexico, and the United States. Each of these locations was chosen based on several factors, including:
● Severity of deforestation in the area. PrintReleaf's reforestation projects in Brazil, Ireland, and Madagascar focus on areas where the native forest cover has been reduced to less than 1 percent.
● Severity of economic or human conditions. Forests in the Dominican Republic, India, Mexico, and the United States are found in economically struggling areas with poor employment rates.
Introducing the Xerox – PrintReleaf Partnership
Xerox is one of PrintReleaf's newest partners that has had a significant impact on reforestation efforts since it's joined. Since joining in February 2018, Xerox has helped planted just over 17,600 trees in the reforestation projects of Brazil, Madagascar, and Ireland. By becoming a partner with PrintReleaf, Xerox customers now have direct access to participation in global reforestation projects.
Making the Most of Managed Print Services
Since PrintReleaf primarily operates through cloud-based software (meaning there's nothing for users to install), Xerox is a natural partner with its ConnectKey integration features. Currently, Xerox allows users around the world to sign up for PrintReleaf within any managed print services contract. All customers need to do is pick the reforestation project to which they'd like to contribute. Xerox automates the rest.
Companies with Xerox printers who wish to participate in PrintReleaf don't need to contact Xerox directly. Any managed print service provider can assist with the configuration and accessing the training necessary to acquire either PrintReleaf certification.
A Commitment to Sustainability
The Xerox and PrintReleaf partnership is just the latest in its long tradition of a commitment to environmental sustainability for the printing innovator. Printing remains a critical element of business functions, and Xerox has proven an active participant in developing responsible, green solutions.
PrintReleaf can be used alongside many of the sustainability tools which Xerox currently offers, including the Xerox Print Awareness Tool. Together, Xerox and PrintReleaf are helping companies achieve their sustainability goals and practice responsible printing.
Xerox and PrintReleaf Are Thinking of the Future
Achieving sustainable business practices is critical for the survival of a business and the planet. As the world approaches a severe situation, it's crucial to act now to develop less harmful ways of existing. Companies like PrintReleaf are springing into action to help companies large and small evolve sustainably. By partnering with Xerox, PrintReleaf is now able to reach a larger audience than ever, helping to amplify the effectiveness of its global reforestation projects.
XMC believes in delivering business excellence. Start a conversation with us today to discuss how to participate in PrintReleaf's reforestation program using your Xerox printers.