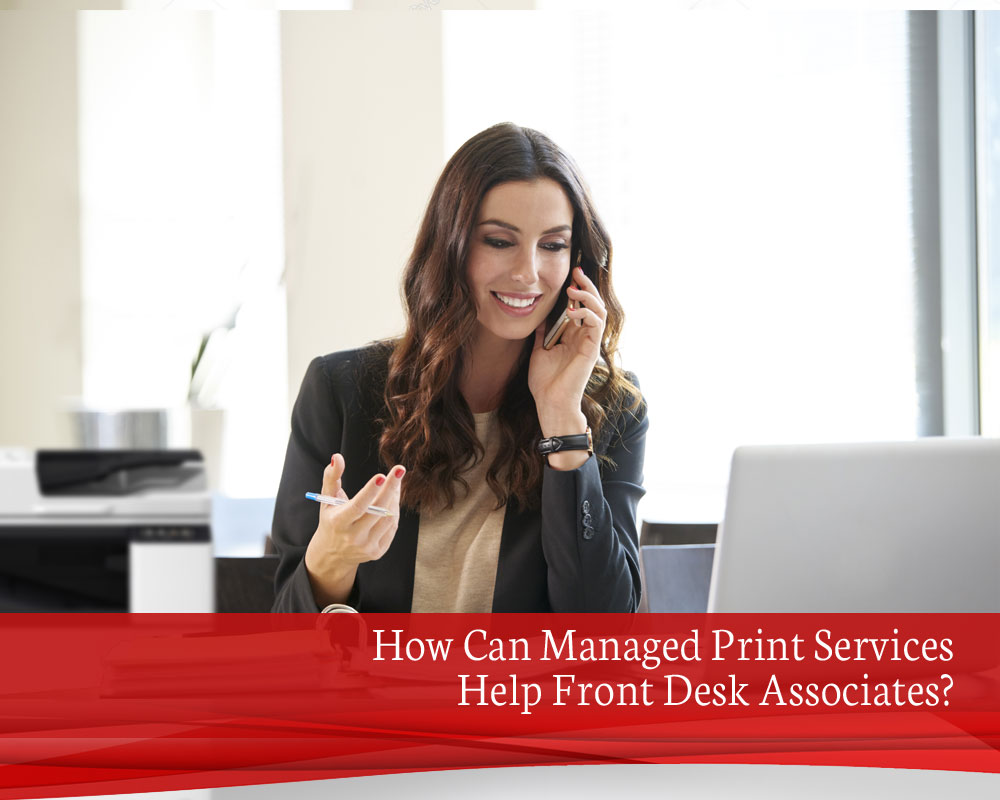 Front desk associates are the first employees potential customers or other visitors encounter and interact within a business. They are the first opportunity for a company and staff to make a good impression.
This makes it critical to provide supporting systems that make front desk associates productive and efficient, to avoid any concept that they are too busy to attend to visitors promptly and courteously. Office equipment and solutions, such as managed print services, that help front desk personnel do their work, contribute to their efficiency, which reflects on a business.
How to Maximize Front Desk Productivity
The responsibilities of front desk associates can be overwhelming at times. Providing them with the proper tools and solutions not only make their job easier but also improve morale and ensure job satisfaction.
Some of the tools front desk associates need for maximum productivity are as follows:
● Reliable telephone (multi-line phone systems, single-line phone systems, cellular phones) for notifying employees of visitor arrival and receiving phone calls
● Efficient document processing equipment – printers, copiers, scanners, etc.
● Computer with network and internet access
● Robust software systems to communicate with employees and potential visitors. This includes email, office documents, spreadsheets, and internal business documents
Besides the tools listed above, some office best practices and solutions need to be in place for optimal front desk productivity. This includes:
● Ensuring all devices are up to date. Outdated office equipment consumes time, reduces productivity, and generates excessive downtime. In addition, they take up valuable space that can reduce the efficiency of front desk operations.
● Implementing Managed Print Services (MPS) for the front desk. This considerable improves front desk productivity.
● Readily available documents such as visitor badges, facility maps, or business visit agendas for guests when needed. This means reliable access to both software applications and printing functions.
What About MPS Makes Front Desk Associates' Job Easier?
The benefits of managed print services cannot be overemphasized, considering how they tackle printing inefficiencies, reduce printing costs, and optimize the entire workflow of businesses.
Managed print services offer front desk associates many advantages, including:
● Multifunction Printer: One single full-featured multifunction printer replaces multiple devices, such as copiers, printer, scanner, and fax machine. This frees up space and offers new functionality for directly scanning documents.
● Reduces burden: It eliminates the need to manage supplies and service. With a single source for service and monitoring for supply status, more time is available for customer-facing activities.
● Security: Documents can be routed directly to the right company personnel without making copies or hand-carrying paper documents. Filing is eliminated, with no paper versions that could be misplaced or read by unauthorized personnel.
● Use of electronic forms: Visitor documents can be prepared and printed in real-time, using the power of digital forms that can be customized for specific needs.
● Digital search: Information can be found quickly and easily to answer questions and resolve problems.
● Distribution: Documents can be routed to company employees directly to streamline business processes. Delivery documents can be scanned and routed for signatures dynamically, then approved, and returned to the front desk personnel – without anyone leaving their desk.
● Availability: The front desk staff can communicate and send documents to anyone – anywhere. Documents can be prepared, shared, edited, and returned from remote offices or locations.
● Workflow: It removes the decision-making at the front desk for how to route documents. Integrated workflow can take the guesswork out of that function, directing documents based on customized workflow.
Why Implement Managed Print Services
Besides making the front desk's job easier, when implemented, managed print services afford organizations and offices various benefits. This does not stop at improving print security, managing and optimizing print environments, and saving operational costs.
Implementing managed print services offers the following additional benefits:
● Lowered cost through advanced multifunction printers
● Reduced reliance on paper documents
● Automated document capture and classification
● Fast accessibility to documents such as business communications, calendars, and other company documents
● Better reporting of printer use and supplies
● Improve sustainability through reduced use of paper and consumables
● Centralized maintenance of office equipment and supplies
● Automatic supply replenishment
● Manage document retention and ensure adherence to policies
● Security – no lost paperwork or unauthorized access to confidential information
XMC has the experience and technology that save clients money daily. It all starts with a comprehensive print study to determine how MPS can benefit your company.
Contact us today to speak with an expert and learn how XMC managed print services can improve the efficiency of your organization's printing fleet and reduce your environmental impact.