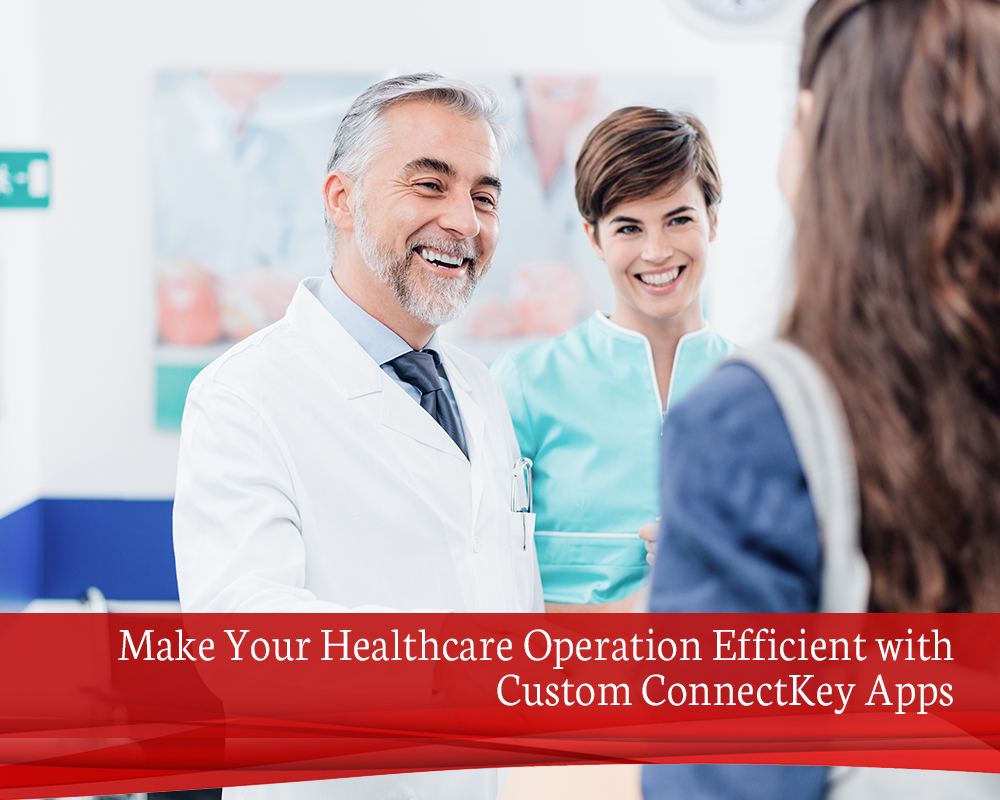 Healthcare is an ever-evolving industry which needs to keep up with both technological and patient demands. As such, it is one industry which is keen to adopt new processes that are capable of increasing the efficiency of the office. In recent years, custom mobile app development has gained traction as a way for healthcare operations to acquire the specific tools they need in a way that is fully tailored to their unique environments.
Creative applications of Xerox's printer integration software, ConnectKey, is one way in which healthcare offices are keeping operations efficient. Read on to learn about what ConnectKey is, and why custom apps are a fantastic strategy for managing documents and data in a healthcare setting.
What Does ConnectKey Currently Do?
Xerox ConnectKey is software which enables the customization of print environments through integration between Xerox multifunction printers and other WiFi-enabled devices. All AltaLink and VersaLink printers come with it pre-installed – users need simply install ConnectKey onto the devices upon which they wish to access the printer.
One of ConnectKey's biggest advantages is the App Gallery, which houses dozens of productivity-oriented apps. These apps include everything from cloud storage to assessing compliance, workflow development, and proofreading. Many of these are specialized for certain industries, such as those found in Xerox Healthcare Solutions. These apps are specially designed with HIPAA in mind, as well as the unique challenges faced by the accelerated evolution of the healthcare industry.
However, even though Xerox currently offers apps specifically meant for healthcare professionals and settings, they may not be enough. Fortunately, there's another powerful tool which healthcare organizations are increasingly choosing to leverage: the MFP Workflow App Customization Service.
The Beauty of Customized Apps
Custom mobile app development is one of ConnectKey's best-kept secrets. It allows healthcare organizations to create truly bespoke workflow solutions to keep on track of the massive amounts of data and paperwork they handle. Some examples of customized ConnectKey apps include:
Web portals to access patient forms, instructions or private health information in a secure environment.
Document checking to ensure perfect accuracy of input, or to review cases.
Streamlined appointment making to keep the doctor's schedule completely organized and efficient.
Survey collection for hospital staff and patients.
Secure internal communications which comply with HIPAA.
In a variety of cases, a similar app already exists and can be tailored to achieve legal compliance or meet specific needs. In other cases, it's possible to build custom apps from the ground up with the healthcare provider's specific needs at the forefront.
Eliminate Large Patient Service Teams
Customized apps are proving especially helpful in the automation and streamlining of patient service processes. The result is a reduction of personnel which a healthcare organization requires to keep operations flowing smoothly. This occurs because customized apps:
1. Help automate routine tasks.
Healthcare organizations acquire, transmit, and store a vast amount of data – much of which is extremely sensitive. By using integration software to handle routine data tasks, it frees up healthcare staff to perform more critical functions.
2. Improve HIPAA compliance by reducing the number of people who handle protected health information.
Automation means that a human doesn't necessarily look at the information, and this can be critical to achieving HIPAA compliance. The fewer eyes see a piece of data, the less likely that it will be exposed to unauthorized personnel or mismanaged in some other way.
3. Keep operating costs lean to stay competitive.
The reality of most hospitals and healthcare organizations is that they must function as a business – and, like a business, they must remain competitive. This means reducing overhead wherever possible. Customized apps, especially those which reduce human workload, go a long way in these fast-paced environments.
4. Improve the patient experience.
Nobody likes being handed off to a half dozen people each time something else needs to happen. Integrated apps help improve the patient experience by allowing things like intake and surveys to happen all in one place. Likewise, customized apps can leverage other integration software to keep these data points organized so nothing gets lost again.
Experts in the Healthcare Industry
XMC excels at developing solutions for healthcare professionals and their organizations. Our experts bring in depth-knowledge of the healthcare industry to work to develop much-needed data management and cybersecurity solutions. We leverage custom ConnectKey app development to ensure that our clients have exactly what they need.
Additionally, our managed services include an emphasis on the unique features of the healthcare environment, such as the increased need for privacy and data compliance. XMC uses world-class technology to deliver comprehensive, consistent and professional excellence for the specialists who need it the most.
Modernize your healthcare organization with XMC's insight. Contact a specialist today to begin planning a superior document and data security infrastructure which drives your organization to greater efficiency, effectiveness, and success.