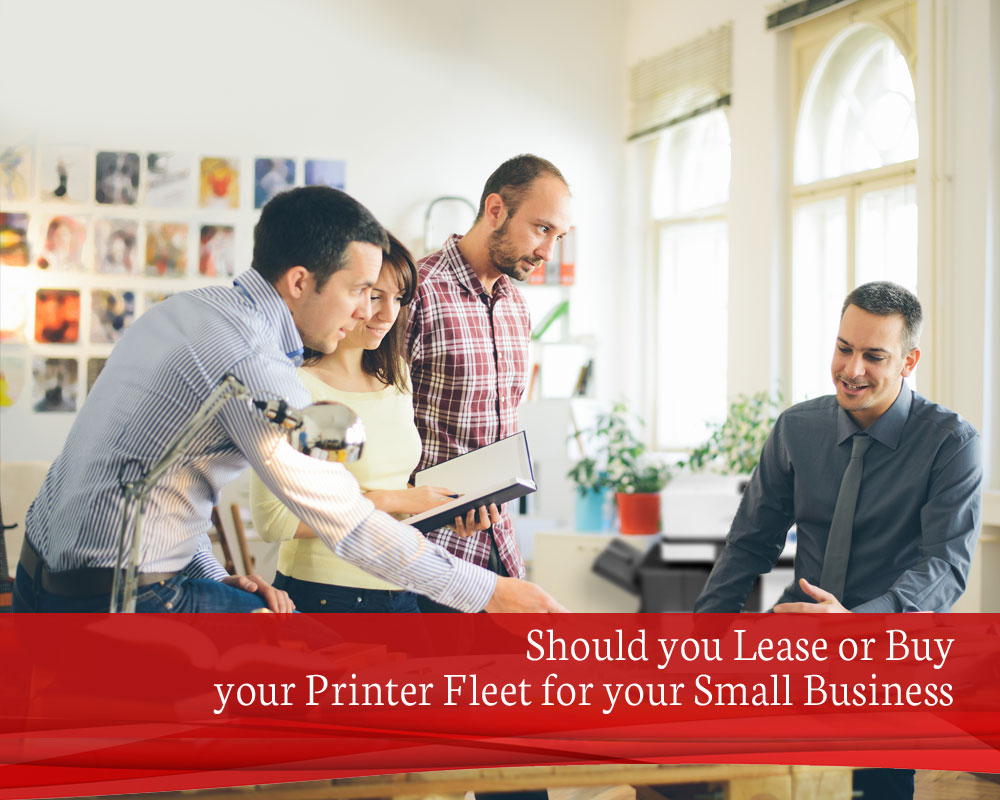 The timely replacement or upgrade of essential office equipment is a problem every company will eventually have to face. Due to the large capital investment, new technologies require, companies will have to weigh the lease vs. buy equipment conundrum. For every office, the printers, copiers, and other networked equipment distributed throughout the workplace are what keeps staff productive. If these devices start failing or breaking down regularly, the disruption can lead to losses in revenue, reputational damage, and frustrate their employees.
Printer leasing is a strategy that companies may want to investigate for improved operations. What started as a cost-saving effort for most companies is now a viable business model. Technology changed the way companies do business over the last decade and became the single most significant enabler of growth in organizations. In this regard, modern printers and multifunction devices are no different. These machines are productivity tools that can speed up a company's workflows and streamline their operational processes.
The Advantages of Printer Leasing
Although printer leasing isn't necessarily the best option for every company, it could bring many benefits to some businesses. Every company will need to consider the pros and cons that come with leasing their office equipment. Obviously, it'll depend on the nature of operations, the number of printers required, or the volume of documents the company processes every day. Understanding these factors will assist the company in making the right decision.
Reducing Startup or Investment Costs
By leasing their equipment, the company can circumvent large capital investments to acquire their printers and copiers. With a printer lease, the company won't have to make upfront payments for their devices. As printers can cost anywhere between a few hundred to several thousand dollars, opting to lease the equipment can prevent spending a large chunk of the budget for these devices. Instead of having to pay the full amount of the equipment's price, the company will have a single monthly payment for all their printing and copying requirements.
Access to Newer Technologies
Technology lags can stifle a business's operations. The older the devices get, the less efficient they will be, while it will also cost more to maintain them. With a lease agreement, the company can upgrade their equipment more frequently according to a predetermined cycle. Newer devices use less ink, print more pages per minute, and come with additional energy-saving features. Regularly updating the company's imaging devices can help reduce operational overheads.
Expert Support and Technical Services
It's common for lease agreements to include the necessary service and maintenance tasks. The leasing company will also provide 24-hour support to keep devices operational. Most leasing companies will have remote support and can dispatch technicians to repair equipment on site. This will ensure the company has peace of mind that their devices will not suffer extended downtimes, and repairs will happen expeditiously.
Types of Printer and Equipment Lease Agreements
Not every business has the same needs when it comes to their printing and copying equipment. Similarly, the types of agreements available to the company will differ. The company will need to look for what they want out of the agreement before making their final decision.
The two primary types of leasing agreements include:
● Capital Leases – This is a lease-to-own agreement that will mean the equipment belongs to the company once the lease expires. These usually cost more per month, but the company retains the equipment for a small fee.
● Operational Leases – More common type of agreement where the company will not have to purchase the device after the lease expires and can opt to upgrade equipment under a new agreement instead. This agreement also costs less than a capital lease.
The Advantages of Buying Printers
For some companies, it may be a better option to purchase their equipment outright. Although this will require a larger capital investment upfront, it won't force them into any contracts or agreements with leasing companies. Leasing a printer may end up costing the company more money over the term of the agreement. As companies own the equipment, they can opt to sell older devices to recoup some of their initial investment costs.
Deciding Which Option is Right for a Company
Choosing to lease vs. buy equipment is something every company will have to consider when they need to acquire new office technologies. For smaller businesses that don't have the necessary capital, leasing is a viable strategy to ensure they have access to modern equipment. At the same time, companies that have the money to buy equipment may still want to ensure their devices receive the necessary maintenance and services to keep them operating reliably.
XMC provides a variety of different lease options that give companies complete transparency over their agreements. For almost thirty years, XMC has worked with customers to find solutions that help them streamline their daily operations. XMC can help organizations to reign in runaway printing costs and leverage new technologies to improve their business workflows.
To discuss your company's requirements and to help you make the decision whether to lease vs. buy equipment, reach out to one of XMC's friendly agents today.