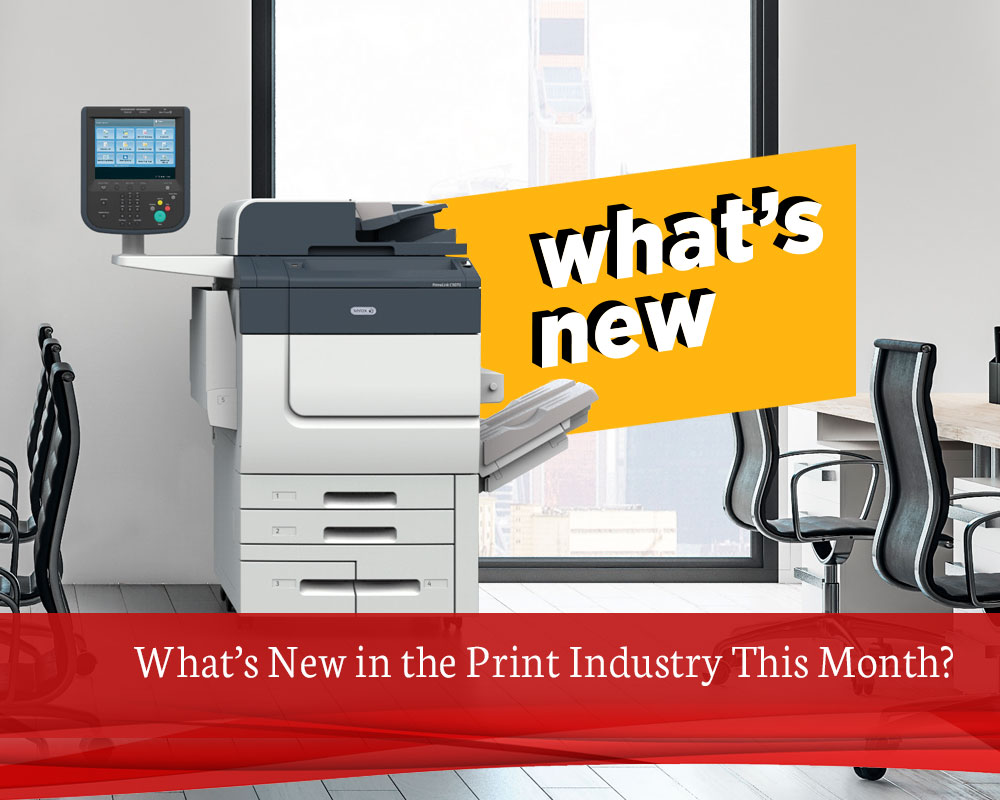 Hardly a month goes by without something new and exciting in the print industry – and October was no exception. The office technology industry is a fast-paced, rapidly growing market driven by innovation and the rise of sophisticated technology. From the introduction of metallic inks to the use of artificial intelligence in printer settings, 2019 has proven chock full of thrilling advances in the print industry.
As the year draws to a close, many companies are starting to consider their growth in 2020. Thinking about upgrading that printer or investing in the next level of commercial printing? Here's what the industry leaders are up to, and what the print market is looking forward to in the first months 2020.
Xerox: Redefining Embellishment and Specialty Printing
Printers have long been bound by the restrictions of CMYK – Xerox is slowly breaking down that stereotype. Specialty printing, which emphasizes unusual embellishments and finishing options, has been a point of focus for the print industry leader. Last year, the print industry saw the introduction of specialty inks and experimental settings to expand the capabilities of printers under CMYK.
This month, Xerox has announced yet another expansion on that line of innovation. The Adaptive CMYK Plus Technology augments CYMK printing on some of the manufacturer's production printers, expanding the color capabilities to fluorescents, metallics, white, and even clear. With the introduction of Adaptive CMYK Plus Technology, Xerox is bringing specialty printing into the hands of a record number of businesses.
To make this technology even more accessible, Xerox has introduced a new line of entry-level production printers. The PrimeLink C9065/C9070 series will boast speeds of up to 70ppm with best-in-class color image quality – 2,400-by-2,400 DPI, to be exact. These devices will come loaded with the Adaptive CMYK Plus Technology, allowing a record number of businesses to access state-of-the-art printing technology.
Clearing Up the 2020 Color of the Year by Xerox
It's Xerox again. They're defying expectations and enthralling the world with their bold ideas – this time with the 2020 Inaugural Color of the Year. They don't expect everybody to agree, and they've already said they're fine with that. After all, it's not every day that a major innovator finds inspiration in a fishbowl, cellophane, and Leonardo Da Vinci – all at once.
For those not quite sure about the connection between those three things, the answer is clear. As the 2020 Color of the Year from Xerox, clear is celebrated for its ability to add depth and texture to existing colors. Indeed, it's well known that fine artists throughout history have used clear glazes to enhance the visual richness of their palettes. Clear glazes change the way light interacts with the colors underneath, resulting in depth, texture, and even tones of colors outside CMYK itself.
As noted above, clear is one of the specialty inks released in the Adaptive CMYK Plus Technology. Clear ink is a first in the history of the printing industry. Get ready to unlock an entirely new level of CMYK.
Digital Print Innovation for the 21st Century
Xerox isn't the only one doing exciting things with ink and digital presses. Early in October, print manufacturing giant HP announced new innovations for the HP Indigo digital presses, commercial sheet-fed presses with unparalleled substrate compatibility.
Like Xerox, HP has followed the route of metallic inks to augment the printer's CMYK capabilities. ElectroInks, a pigment-agnostic ink technology used on the Indigo presses, will now be available in silver and premium white.
However, unlike Xerox, HP has pursued a different avenue of innovation with the breadth of applications and substrates upon which these inks will flow. In other words, whereas Xerox has emphasized visually stunning aesthetics on paper, HP has made its ElectroInks compatible across a wide variety of substrates whether they're coated or not.
Likewise, by focusing on silver and white, HP hopes to open the door on metallic specialty inks that go beyond simply silver or gold. With ElectroInk capable of recreating 97 percent of the Pantone color gamut, HP is seeking to take advantage of the unparalleled color capabilities of its high-end production presses.
Xerox is bringing specialty ink mainstream, but HP continues to push beyond the boundary of the definition of metallic. Their release of metallic ElectroInks is only the first step.
Unlock the Latest in the Print Industry with XMC
This month's exciting news reveals that innovation in the print industry is alive and well. Industry leaders like Xerox and HP are rethinking ideas around color, ink, and even CMYK itself. As production technology becomes more accessible to a greater variety of businesses, companies have entirely new worlds of possibilities for their printed collateral.
Ready to take advantage of the latest in the print industry? XMC is here to help. Start a conversation with us today to learn more about the latest innovations in printing that are right for your company.