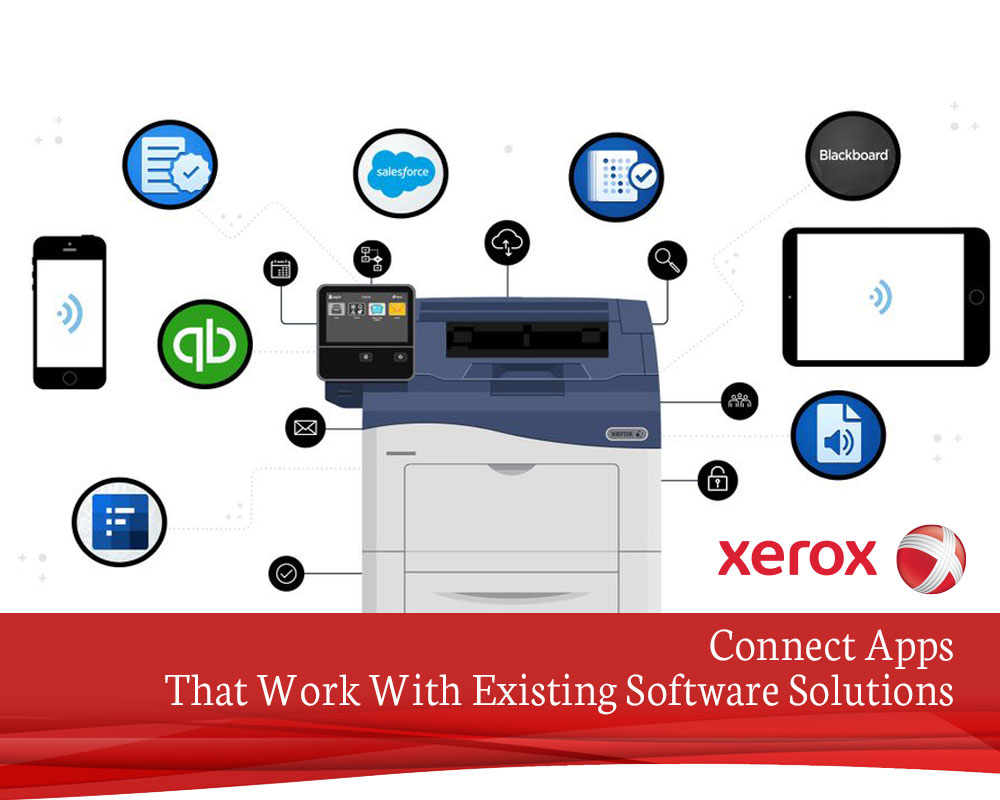 Using Xerox printers? Unlock their full potential by taking advantage of the extensive and ever-growing Connect Key app gallery. With Xerox ConnectKey, offices can transform into a thriving, productive ecosystem which integrates printing with the other elements of a company's document management strategy. With Connect Apps, an office can connect the MFP directly to software or services already used to eliminate extra scanning, email or other steps from the overall office workflow.
Stay competitive and nimble by streamlining workflow processes. Connect Apps is a powerful tool for achieving operational efficiency to work better and faster. Here's how.
How Connect Apps Make a Workflow Easier
The extensive Xerox ConnectKey app gallery is home to all sorts of productivity tools. These tools are specifically designed to make it easier to access critical information and capabilities to get work done faster. Connect Apps make workflows easier by:
● Reducing the number of steps necessary to complete a task.
● Automating certain features to eliminate opportunities for human error.
● Improving data security through innovative ways.
● Creating a seamless environment to move documents from point to point.
● Eliminating the need to make a physical trip to the printers and copiers.
● Amplifying the impact of the MFP in an office.
● Support a mobile workforce with flexible productivity functions.
Companies using Xerox MFPs can leverage the many options in the app gallery to improve the way existing software or services interact with the printer. Here are XMC's best recommendations by vertical.
Make the Most of ConnectKey With These Apps
ConnectKey's ever-evolving gallery of apps holds dozens of native and third-party tools to help users achieve greater heights of efficiency and success. Likewise, many companies are already using key business applications or software to undertake their most mission-critical processes. Connect Apps enhance the connectivity of these tools with office printers.
General Productivity-Enhancing Apps
Regardless of the industry or the vertical, there are a few things which every office uses. Recognize any of these tools? Consider the Connect App for:
● Cloud Collaboration Tools: Leverage the ConnectKey apps for Dropbox, Google Drive, Office 365, OneDrive, or Amazon WorkDocs to print, scan, copy, and share files directly from an MFP to any of these services.
● Salesforce: Make it easier to manage documents to spend more time working with customers. The Connect App for Salesforce automates document processes to make it faster and easier to do the paperwork for clients.
● QuickBooks Online and Concur: According to Xerox, one expense report takes an average of 20 minutes to complete. The Connect Apps for QuickBooks Online and Concur slash that time and helps make sure invoices, receipts, and expense records stay neat.
● DocuSign: Collecting signatures is always tricky, especially online. The Connect App for DocuSign integrates not just with the MFP, but also with other Connect Apps for Salesforce, QuickBooks, and more.
● EverNote: Print and scan directly to and from an EverNote account to keep track of ideas and information.
Connect Apps for Legal Professionals
For law firms, nothing causes work to grind to a halt faster than not having the necessary files on hand. Xerox has developed a series of apps specifically for legal professionals. Connect Apps exist for:
● Clio and iManage: Print or scan directly to and from a Clio or iManage account to extend the reach of this leading cloud-based software. Simplify legal practice management and make it easier to keep files – and bills – in order.
● Auto Redaction: Eliminate time-consuming manual searching for keywords that need to be redacted before a file can be released. Auto redaction helps keep sensitive information secure and out of sight.
Connect Apps to Transform Education
Technology is transforming education, bringing new capabilities to teachers and students. Enhance the learning experience with Connect Apps that can transform the classroom. Consider:
● Blackboard: Make it easier than ever to digitize and disseminate course materials for students. Reduce the amount of paper flowing through a classroom and keep lessons efficient.
● Moodle: Digitize notes and coursework, browse a Moodle account, and print on demand – all right at the printer.
● Remark Test Grading: Reclaim the time spent grading tests with a grading app which the printer can use. Quickly and easily run bubble tests through a scanner and record the grades.
Transform Your Productivity With XMC and ConnectKey Today
Companies using Xerox VersaLink or AltaLink MFPs can and should take advantage of the dazzling array of Connect Apps available in the gallery. These apps were developed specifically to produce a seamless, fully integrated environment to move information quickly between points.
Agility in business processes represents a competitive edge in markets that are prone to changing quickly. Make the most of the office MFPs by simplifying and enhancing the workflow.
XMC helps companies achieve greater success and productivity by refining their workflows and business processes. Contact us today to get started with experiencing excellence in all your office solutions.