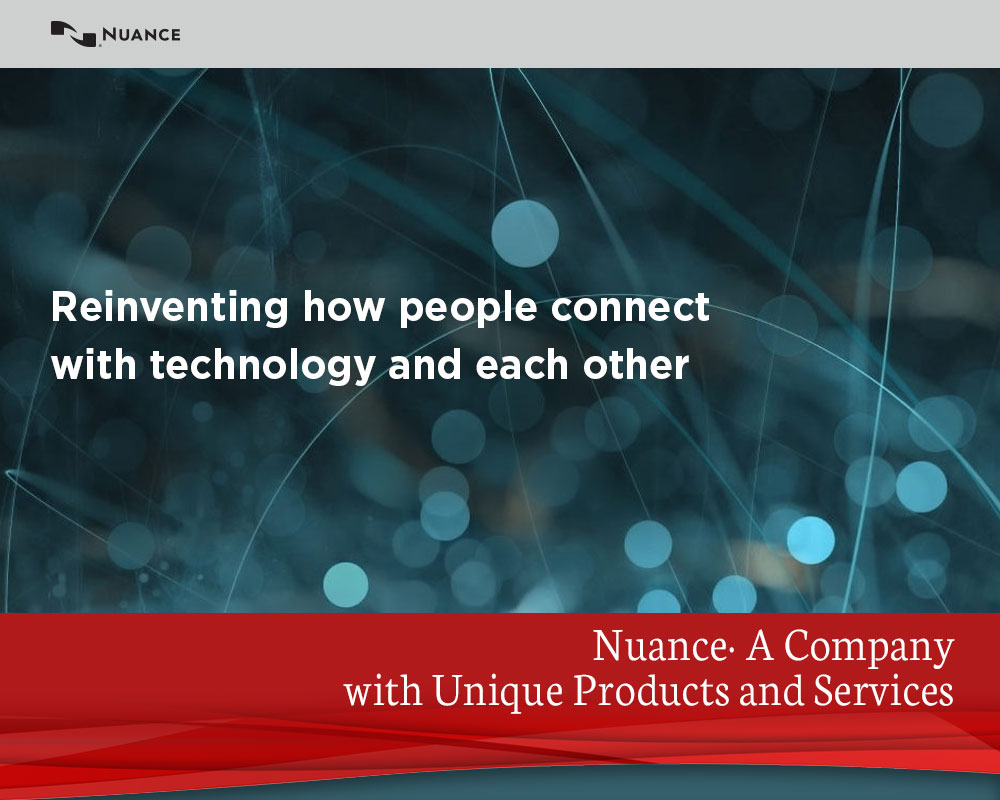 Artificial intelligence is finally here. For the past few years, it's made leaps and bounds into mainstream use, promising to transform business processes into productivity-driving operations. From faster customer service to better cybersecurity, companies deploy AI so that they can stay focused, efficient, and competitive. With Nuance, a company can leverage the latest advances in artificial intelligence in ways that truly matter.
Although many businesses now turn to AI to make their jobs easier, intelligent office solutions represent a critical advantage in many high stakes industries. Read on to learn about this company's unique offerings, and why healthcare organizations, financial firms, and government offices, in particular, should consider using Nuance.
Nuance: How a Company Can Transform Conversations
Nuance provides office solutions driven by artificial intelligence for companies and organizations where perfection matters. These solutions are defined in terms of interactions, meant to increase the cohesion and integration within a workspace. Their offerings fall into four primary categories:
1. AI-Powered Patient Care
For a healthcare company, Nuance provides a host of smart solutions designed to improve the ability of doctors to meet the needs of their patients while staying atop the stringent compliance requirements for running their business. AI-powered patient care solutions offered by Nuance include:
● Document capture solutions. Nuance empowers healthcare professionals to leverage advanced capabilities like speech recognition, transcription, and virtual scribing services.
● Clinical and revenue integrity solutions. From record management to clinical documentation support, Nuance makes it easy to keep paperwork in order.
● Quality management solutions. AI-driven data analytics assists offices manage risk, maintain quality standards, and make data-based decisions.
2. Omni-Channel Customer Solutions
AI has been used for customer service for several years, but Nuance breaks from the mold. Using natural language processing and conversational AI, Nuance transforms the way companies interact with customers when it matters the most. Critically, this cross-channel customer service platform eliminates contradictions and conflicts, which may confuse customers. It's even won them acclaim from global research and advisory firm, Forrester.
3. Intelligent Security
Cybersecurity is a primary reason for the implementation of AI. A smart security system is essentially like having an extra security professional who is always on staff. Indeed, with Nuance Gatekeeper, a company can leverage advanced security features, including:
● Biometric authentication
● Biometric fraud detection
● Speech-to-text personnel identification
● Behavioral analysis
● Mobile support using picture or voice recognition
4. Next-Generation Productivity
The rise of the digital environment has made the modern workplace more complicated than ever, and Nuance is ready to help tackle it. A whole host of productivity solutions known as the Dragon Suite lets offices remain on top of their paperwork within a seamless environment. Whether leveraging cloud-based mobile solutions to integrated dictation software, a company using Nuance can enjoy the benefits of a faster, more streamlined, and error-free work environment.
The Industries Nuance Serves
Nuance offers powerful, intelligent office solutions for companies in high stakes environments. Their four primary industries include healthcare, financial services, telecommunications, and government. However, a variety of other industries may wish to take advantage of Nuance's services to gain a competitive advantage in their field. In addition to the primary industries, Nuance is also pleased to serve:
● Education institutions
● Insurance companies
● Legal firms
● Retail offices
● Social services
● Travel and hospitality businesses
● Utility companies
The Benefits of Nuance
Nuance is unlike other AI-powered office solutions, and the many awards won for its innovative solutions prove this. Unlike other AI-powered office technology solutions providers, Nuance emphasizes connectivity and relationships rather than processes. This unique approach allows an office to build an ecosystem that supports not just critical processes but critical relationships as well. As a result, companies which use Nuance enjoy:
● Improved customer service. Nuance's solutions help enhance the customer experience and get people connected to the right resources or individuals faster.
● Deeper professional relationships. Healthcare professionals can spend more time with patients. Financial firms can authenticate clients while a representative greets them in person. Even office productivity solutions make it easier for professionals to spend less time typing and more time collaborating.
● Paperwork done faster and more efficiently. Cloud-based solutions improve security, accessibility, and efficiency in document solutions.
● Decreased reliance on time-consuming tasks. Many of Nuance's solutions feature voice recognition software or dictation features, reducing dependence on rote tasks like typing or time-consuming data entry.
With Nuance, A Company Can Work Smarter, Not Harder
Artificial intelligence is becoming a vital part of the modern business landscape. It delivers many critical benefits, including the ability to more adeptly handle the torrent of documents that a typical business generates. Solutions for processes like document management already routinely take advantage of artificial intelligence within a company. Nuance takes these features a step further by emphasizing people, not processes.
XMC is thrilled to help healthcare, financial, and government offices access the latest technology they need to thrive. Contact us now to discuss your company's vision for the future.